Firefighters who lost lives in Buxton honoured at memorial
The Camden Advertiser reported that Horsley Park Rural Fire Service volunteers Geoffrey Keaton and Andrew O'Dwyer were two of the eight brave emergency services personnel added to the Emergency Services Volunteer Memorial at a ceremony at Mrs Macquarie's Chair on Sunday.
Mr Keaton, 32, and Mr O'Dwyer, 36, died when a tree fell into the path of their tanker, causing it to roll, as they were travelling in a convoy near Buxton while battling the Green Wattle Creek fire in December.
Geoffrey Keaton and Andrew O'Dwyer were added to the memorial.
Police and Emergency Services minister David Elliott said it was important to remember the volunteers who paid the ultimate sacrifice protecting their community.
There are now 102 names on the memorial which recognises volunteers from the NSW Rural Fire Service, NSW State Emergency Service, Marine Rescue NSW and the NSW Volunteer Rescue Association.
"The men and women who volunteer put service above self, often prioritising the safety of their community above their own. Our state owes them all a debt of gratitude," Mr Elliott said.
"NSW tragically lost eight beloved volunteers, Geoffrey Keaton, Andrew O'Dwyer, Samuel McPaul, Colin Burns, Michael Maria, Phillip Bell, Ian Long and Robert Panitz. The whole community mourns with their families.
The memorial at Mrs Macquarie's Chair. There are 90,000 volunteers in NSW who give their time unwaveringly to serve communities right across the state.
"Whilst we do everything we can to ensure the safety of our emergency services members, tragically, sometimes these men and women do not make it home. Their sacrifice will never be forgotten."
Of the eight names which were added to the memorial, four lost their lives last summer fighting the 'Black Summer' bushfires, while the other four volunteers died as a result of illnesses associated with their work.
There are 90,000 volunteers in NSW who give their time unwaveringly to serve communities.
Wollondilly Council is honouring the firefighters with a firetruck-themed playground at Telopea Park, which is set to open soon.
Mr Keaton and Mr O'Dwyer will also have pavers laid in the Heroes of Fairfield City section of the commemorative pathway at the Fairfield Showground.
These pavers are being placed on the pathway between Deerbush Park and the People's Globe.
The commemorative pathway will consist of more than 500 pavers which recognise people's connections with Fairfield.
'Showstoppers': Emails reveal barriers to flying firefighters in Black Hawks
The Sydney Morning Herald reported that the NSW Rural Fire Service faces an uphill battle to get two Black Hawk helicopters to fly firefighters to remote areas because it is deemed an unacceptable risk to safety.
Two years after plans for the Defence Force to give two Black Hawks to NSW, emails between RFS commissioner Rob Rogers and air-safety regulators reveal the barriers to the helicopters being used to plug a gap in the agency's operational capability.
Because the helicopters were designed for the military, there are restrictions under federal law on them being used to fly civilian passengers.
The first Black Hawk was originally due to be transferred to the RFS last year. But the delivery of both has been delayed until 2022, once they are decommissioned by Defence.
In a sign of his growing frustrations with the regulator later, Mr Rogers emailed CASA in February last year to say he needed to "understand we can work through the issues" before accepting a helicopter and committing NSW government funds.
"The key aim of these aircraft is to transport firefighters to areas to be on standby for lightning strikes," he wrote. "As such, having the standard restricted-category aircraft certification is not much use to us, unless we are sure we can get past the 'passenger' issue."
The emails and letters, released to Labor under freedom of information laws, show Mr Rogers requested further clarity from CASA in July last year so he could advise the NSW government "as to the viability of the gifted helicopters to meet our gap in operational capability".
But in a letter to Mr Rogers in September last year, a senior CASA official said the body was of the view that the regulations did not permit a restricted category aircraft such as the Black Hawks being used to fly people from one location to another for ground firefighting.
"CASA considers the use of a restricted category helicopter in passenger-carrying operation creates an unacceptable risk to safety," the CASA official wrote.
The senior official said aircraft designed to military specifications "traditionally did not cover areas such as passenger safety to the same extent as the civil standards".
The RFS continues to face hurdles to using its flagship water bomber to transport firefighters this bushfire season. The Boeing 737 – named the Marie Bashir – has been fitted to ferry up to 72 firefighters but cannot do so because CASA is yet to give regulatory approval.
"This gap in our firefighting capability needs to be urgently filled," she said. "This will ensure NSW not only has a capable aerial firefighting force, but that we are ready with the pilots, infrastructure and logistics to deploy the Black Hawks when they are eventually refitted for civilian use."
But Emergency Services Minister David Elliott said the government had funded the purchase of the two Bell 412 helicopters, which had already enhanced the RFS's operational capability.
"The NSW government will continue to support the NSW RFS as part of their discussions with [CASA] in relation to developing a public-usage category for the Black Hawk aircraft," he said.
The RFS said it would keep working with CASA to develop a public-usage category for the Black Hawks, similar to that employed in the US, and was planning to take delivery of two helicopters from Defence in 2022.
Asked whether flying firefighters in the helicopters would create an unacceptable risk, the RFS said Black Hawks were used extensively, particularly in the US, to transport firefighters and equipment.
"The NSW RFS has and continues to maintain a stringent safety culture in line with industry best practice and does not believe the use of the Black Hawk aircraft poses any unacceptable risk to safety," an RFS spokesman said.
Waterfall hazard reduction burn became more like a summer wildfire
The Leader reports that the weekend bushfire hazard reduction burn in Royal National Park which escaped containment lines will be reviewed by the agencies involved so that lessons can be learned for the future.
Firefighters were continuing to combat the bushfire on Kangaroo Ridge near Princes Highway, Waterfall, on Monday with assistance from the 737 Large Air Tanker Marie Bashir and other water bombing aircraft.
A Rural Fire Service statement said there was still no threat to properties, but smoke was likely to affect areas to the north including Heathcote and Engadine.
Heathcote East residents David and Michael Oblati captured graphic images of the water bombers at work on Sunday (see gallery above).
Sutherland Shire RFS Inspector Scott Deller said hazard reduction burns were risky and were reviewed when they didn't go to plan.
"Introducing fire into the landscape is inherently risky, particularly as we head towards the warmer part of the year," Inspector Deller said in a Facebook post.
"When implementing such activities, multiple controls are applied both in the planning and implementation stage, to reduce and manage the risk," Inspector Deller said.
"One of the main controls utilised is referred to as a 'prescription'. A prescription is a set of conditions or parameters that provide limits or thresholds on whether an activity should proceed or not, based on expected fire behaviour.
"A burn prescription often includes parameters such as fuel dryness, in addition to diurnal weather conditions peaks and troughs, such as temperature, humidity, wind direction and strength.
"Choosing a prescription is a complex mix of the right ingredients – with flexibility applied by balancing and offsetting various conditions, which are highly variable.
"An example of flexibility is burning when conditions are windy, but only if fuels are moist and the fuel load are light.
"If fuels loads are high and conditions are dry, you need to be more cautious, particularly with lower humidity and changes in wind strength."
Inspector Deller said another important component when introducing fire into the landscape was how the fire was ignited.
"Lighting a line of fire will result in fire reaching its intensity and rate of spread quickly, where if multiple spots are introduced instead, it will spread slower.
"Looking at recent events locally, there will be be community scrutiny surrounding the safe implementation of hazard reduction burning, as there should be!
"In any event when things don't go to plan, it will be subject to review by the various agencies who participated. The aim of which is to understand what occurred and to ensure that reoccurrence is avoided in the future.
"A week ago a hazard reduction burn was implemented at Woronora Heights, where crews worked hard to get it to burn, a week later, a hazard reduction escapes with conditions more akin to a summer wildfire.
"It is a timely reminder, despite being in a La-Nina year, that fires in the landscape can still be problematic."
St Georges Basin hazard reduction, avoid the area
The South Coast Register reported that the St Georges Basin RFS Brigade has asked the community to be avoid a recent hazard reduction site.
The Brigade said it is asking residents to not walk around the current hazard reduction site bound by The Wool Road, Island point road, Anson Street and The Wool Lane.
There are numerous walking and bike tracks throughout that still have active fire and fire affected trees that are likely to fall across tracks.
Parents should not allow their children to ride through the area and refrain from taking their children walking within the area.
"Sadly we have seen numerous people and kids walking and riding through the area today," a Facebook post said.
A falling tree can and will kill you if you are hit by it.
Richmond Valley bushfire under control
The Northern Star reported that a bushfire in the Richmond Valley is currently under control.
The fire managed to decimate 337 hectares of bushland.
Located at Seery Rd Kippenduff, the blaze is under control by the Rural Fire Service and is currently at a patrol level.
RFS crews visited the fire site at Kippenduff yesterday (October 10) and noted there were no signs of activity on site.
The fire poses no threat to surrounding areas.
A 77-hectare planned burn for hazard reduction is also under control at 746 Dam Access Rd Toonumbar.
There is a three-hectare hazard reduction at 38 Whites Rd, Homeliegh, which is under control and listed at patrol level.
Also, Arakwal National Park is undertaking a two-hectare hazard reduction which is being controlled by the NSW National Parks and Wildlife Service.
The reduction is currently under control and poses no risk to the surrounding area.
The bushfire danger period for Ballina, Byron, Kyogle, Lismore, Richmond valley and Tweed council areas commenced on September 1.
Any persons wishing to light a fire at any time, are required to notify the NSW RFS and all adjoining neighbours 24 hour prior to lighting.
Smoke regulations prohibit burning in some areas, so contact the local Fire Brigade or council for further information.
Senate inquiry calls for bushfire fleet, lambasts Commonwealth funding
The Riot ACT reported that a business case to build a sovereign Australian fleet of firefighting aircraft capable of extinguishing remote fires before they become disasters has been recommended by a Senate inquiry into the summer's bushfires.
Fast attack strategies against particularly remote lightning fires that later became disasters could have been put out shortly after ignition with a strong force of specialised helicopters, bombers and remote area fire crews, Independent Bushfire Group member and former incident controller Geoff Luscombe said.
These crews would be dedicated to extinguishing remote fires, he said.
"Supported by the best lightning strike detection technologies, these teams could act quickly while there were only one or two trees alight," Mr Luscombe said.
"Changes in decision-making and investment in specialised firefighting can ensure more lightning fires are put out early, thus reducing costs and impacts on communities and bushland.
"It is clear that we are in unchartered territory for future fire seasons, and we need radical changes in the way we understand and fight fires in the era of climate change."
The Senate inquiry found that firefighting aircraft play a "vital and necessary role" and highlighted the importance of Australia having access to its own fleet as overlapping bushfire seasons with countries like the US means sharing firefighting resources is now becoming more difficult.
The report chastises the Commonwealth Government for not adequately funding such a fleet.
"The committee holds grave concerns over the apparent reluctance of the Commonwealth Government to properly and promptly fund Australia's aerial firefighting capacity," it says.
"The committee is of the view that it should not have taken years for the government to take action in providing additional and more permanent funding to the NAFC [National Aerial Firefighting Centre]."
The Commonwealth gave the NAFC $20 million during the black summer bushfires in January to hire four firefighting aircraft for the remainder of the fire season, a move which was criticised as being too little too late at the time.
Cost-sharing arrangements between the Commonwealth and states and territories need to be reviewed, the report recommends.
The Senate Committee also recommended that the Disaster Recovery Funding Arrangements (DRFA) between the Commonwealth and states and territories be streamlined and easier to access.
In July, Chief Minister Andrew Barr called the scheme's rollout convoluted and inefficient, saying the "timeliness, complexity, scope and quantum" of the cost-sharing arrangements were a concern for the ACT.
"The DRFA, which has been suitable after previous disasters, proved cumbersome and challenging to implement in these particular circumstances," he said.
The report also recommended an increase in the rate of the one-off Disaster Recovery Payment of $1000 for eligible adults and $400 for eligible children and the Disaster Recovery Allowance, a short-term income support payment.
It also recommended the ABC receive annual discrete funding for emergency broadcast services.
Hill End RFS: Volunteer firefighter dies shortly after attending blaze
The Land reported that a volunteer
has died shortly after attending a vehicle fire in Hill End near Bathurst in NSW's Central Tablelands on Friday morning.
Jim Shanahan, a member of the Hill End Rural Fire Brigade, had returned to the station when he suffered a suspected heart attack.https://tpc.googlesyndication.com/safeframe/1-0-37/html/container.html
The NSW Rural Fire Service (NSW RFS) confirmed the death on Friday afternoon.
In a statement, the RFS said Mr Shanahan's fellow volunteers provided initial medical assistance, which included using an automated external defibrillator.
"They were supported by NSW SES members, NSW Police officers and NSW Ambulance paramedics, however tragically Jim passed away," the RFS said.
NSW RFS Commissioner Rob Rogers said the Service's condolences are with Jim's family and friends, fellow crew, brigade members and the Hill End community.
"We are offering every assistance possible to Jim's family and fellow members," he said.
"We will continue to offer whatever help is required."
The fire Mr Shanahan attended occurred at the Hill End police station at around 1.30am Friday..
A fully-marked police vehicle was found well alight.
RFS volunteers extinguished the blaze, but the vehicle was destroyed.
Glen Innes RFS receive generous artwork donation from The Glen Innes Art Gallery
The Glen Innes Examiner reported that in a show of generosity and support for local organisations, the Glen Innes Art Gallery has once again donated one of its exhibitions' winning artworks to a community organisation.
Last week's generous donation was bestowed to the Glen Innes Rural Fire Service by the galley president Jackie Hunter.
On Monday, September 28 Art Gallery president Jackie Hunter was glad to be able to gift the artwork to the local RFS.
"We are presenting the winning artwork from our recent exhibition 'Disaster' on permanent loan to the RFS," she said.
"We don't have a large gallery to display our permanent collections in, to avoid having them in storage we donate the artworks, they are spread around town in numerous places including the hospital, the information centre, the high school and more.
"This saves the artworks from being stuck in storage and helps to share the wonderful artwork of the winners to the public."
RFS district officer Scott Keelan said they are very appreciative to be able to have the artwork in the station.
Visitors to the gallery were asked to vote for which artwork they felt best captured the exhibition's theme of disaster with the winning artwork receiving twice as many votes as the artwork in second place.
As the winner of people's choice award from the 'Disaster' exhibition William Redden is proud to have his award winning photograph gifted to the the local RFS to be on display.
"I feel especially grateful to have my work displayed at the Glen Innes RFS base, as it a fire photo from the 'Disaster' exhibition it seems like a fitting place," he said.
Mr Redden has had a strong interest in photography for the past six years and began his own Facebook page 'WR Photography' to display his work a couple of years ago.
The winning photograph was taken at the Deepwater Racecourse along the Torrington Road from the 2019 fire on November 9.
"This photograph was very personal to me, growing up seeing fires as a child scared me and knowing that many were affected by them," he said.
"Knowing that my artwork will now be with the RFS as a part of their permanent collection to represent and capture the moment as a historical record is touching."
The art gallery are hopeful that other community organisations will approach them to take the opportunity to display their artworks around town.
"We have some spare artworks at the moment that we would like to offer on loan to any local organisation that shows an expression of interest and might want to display them," Ms Hunter said.
Queensland loses 5000 volunteer firefighters in two years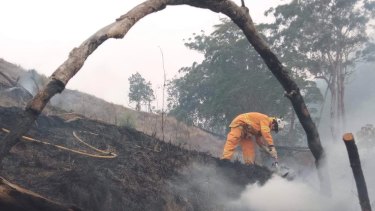 The Brisbane Times reported that Queensland has shed about 5000 Rural Fire Service volunteers in the past two years as officials brace themselves for the coming fire season on the back of last summer's unprecedented blazes and a looming La Nina event.
The drop in volunteers, who make up most of the fire personnel across the state, came amid a controversial push for blue cards – enabling work with children – to be made compulsory among brigade members, which had sparked fears of a decline.
An estimated 31,000 RFS volunteers were on Queensland Fire and Emergency Services' books as of June 30 – a drop of 5000 since 2018 – the agency disclosed in its latest annual report.
During the same period, the State Emergency Service, which works alongside QFES in its flood, storm and bushfire response, lost 600 active volunteers to an estimated total of 5000.
Probationary and reserve SES volunteers, not outlined in the previous two annual reports, took the number to 6000.
QFES has previously put that combined roster of permanent and auxiliary Fire and Rescue Service personnel at about 4000 across its 242 stations. This is in addition to the 1399 volunteer-based rural fire brigades, 493 of which have a shed or station, the report said.
The loss of rural volunteers in Queensland now matches that of the similar-sized Victorian Country Fire Authority in the eight years to December.
A QFES spokesperson said the service recognised the challenges facing volunteers and was "committed to tackling retention and membership issues". They added volunteer numbers fluctuated due to factors including leave and membership status.
"QFES recognises the significant contribution that RFS and SES volunteers bring to the organisation and that they are integral to the effective delivery of fire management, mitigation and emergency response across Queensland," the spokesperson said.
The latest biennial survey of volunteers, conducted between February and April last year and cited in the report, found 72 per cent of those in the RFS were satisfied with their experience, as were 78 per cent of SES volunteers.
A total of 58 per cent felt they could "effectively contribute their skills and experience to QFES".
"Results for RFS satisfaction were impacted by the significant workload undertaken by volunteers throughout the 2018-19 bushfire season," the report noted. From September, the survey will be conducted annually.
That sentiment was taken before new rules requiring volunteers to obtain blue cards, sparked by government legal advice that they could be considered to provide a "health service" to children, caused a backlash among brigade members and prompted concerns of a drop-off in crew numbers.
The report said that as of June 30, 84 per cent of those required to hold a blue card had applied for one. Of these, 99 per cent were RFS employees, 95 per cent were SES members, and just 76 per cent were RFS volunteers.
QFES Commissioner Greg Leach said in the report last summer was unprecedented in Queensland and across Australia.
"In September 2019, fires started in Queensland on an unprecedented scale and continued for many months, with a State of Fire Emergency declared for the first time in November 2019," he wrote. "Further fires ignited in other states, with Australia experiencing one of the worst bushfire seasons in recent history."
This was then followed by above-average rainfall, leading to significant river level rises and flooding across parts of the state, Mr Leach said.
Last month, the Bureau of Meteorology declared a La Nina event was under way in the Pacific, underscoring climate influences that point to a wetter-than-usual end to 2020 across northern and eastern Australia.
The weather event shifts rainfall patterns closer to these areas and typically produces more tropical cyclones, particularly off Queensland.
Officials have previously raised concerns about a lack of resources amid increasing and overlapping fire threats driven by climate change. The global shift has also led to a narrowing window for hazard-reduction burns, carried out this year under strict social-distancing requirements.
Barooga fuel leak sees early morning callout
The Seymour Telegraph reported that Tocumwal Fire Rescue was called to Barooga service station for a fuel leakage at 5 am on Monday, October 5.
About 200 litres of fuel leaked from the bowser onto the road and into drains.
Vermont, MacFarland and Collie Sts were closed while the spill was contained and rendered safe.
The streets were reopened about 11.15 am.
Tocumwal Fire & Rescue thanked Barooga RFS and Fire and Rescue NSW Station 278 Deniliquin for their assistance.
How can the insurance industry prepare for the next bushfire season?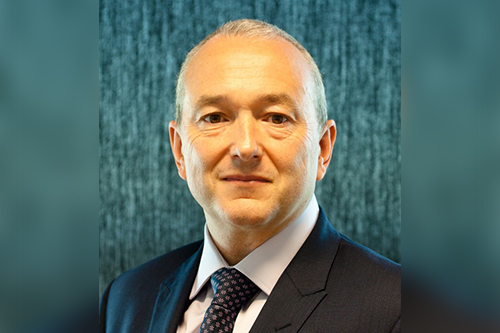 The Insurance Industry Magazine reported that the bushfires that defined the previous Australian summer have taught insurance brokers some valuable lessons ahead of this year's warmer months, according to several industry experts.
The so-called "Black Summer" was the worst bushfire season on record, and directly resulted in 34 fatalities and an estimated 18.6 million hectares of burnt land across Australia. According to health experts that fronted a royal commission this past May, almost 450 people also died as a result of bushfire-caused smoke inhalation during this time.
For the insurance industry, the financial cost of the bushfires was immense. According to the aptly-named PERILS – an independent catastrophe firm – the industry suffered peak losses of approximately $1.861 billion per week, with 70% of these losses being incurred in New South Wales.
According to Peter Cheesman (pictured above), head of APAC analytics at Aon, the bushfires acted as a kind of wake-up call for any insurers that had ignored the severe effects that climate change can – and will – have.
"Insurers should already understand the implications of this recent fire activity on their portfolios and have some knowledge of what causes these conditions to occur and how exposed they are," Cheesman told Insurance Business.
"Looking ahead over the short-term, i.e., the next 10 years, property damage from wildfires is likely to continue to be driven by natural variability in the climate system. Insurers may look to better understand the impacts of these climate drivers on their portfolio. The now active La Niña phase of ENSO [El Niño–Southern Oscillation] in Australia is a good example.
"Looking longer-term, anthropogenic warming is projected to become a key promoter of severe fire weather conditions and subsequent insurance losses," he added.
Ben Crowther, head of risk management services for NSW and Queensland at Marsh, echoed Cheesman's emphasis on the importance of understanding changing weather patterns for the long-term planning of both insurers and their clients.
"Looking forward, communication and our reliance on technology to inform us and to keep us connected is pivotal," said Crowther.
"The scale of the impact isolated so many communities and that heightened the emotion and fear for everyone affected and of those who could not reach them. It also highlighted the need to know our capabilities and vulnerabilities well ahead of the event. While the scale could not have been predicted, it did shine a light on the importance of equipment and supplies, so as not to be caught short."
Crowther drew attention to the aforementioned royal commission, which showed that "many bushfire risk management plans were out of date," and highlighted that while companies need to have current response plans, "company personnel need to be familiar with the adopted strategies."
"Regarding business interruption coverage, there needs to be an understanding of revenue streams; understanding how these revenue streams may be impacted directly and indirectly; and the need to explore how an insurance programme can be aligned with these risks," he added.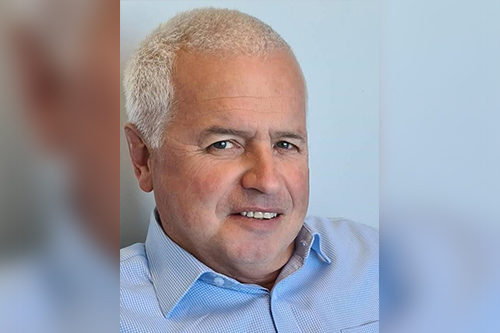 Michael Olofinsky (pictured immediately above), managing director at Brookvale Insurance Brokers, told Insurance Business that local governmental bodies should bear the greatest burden when it comes to protecting Australians against bushfires.
"While brokers play a major role in the placement of insurance, it is up to local councils and state governments to keep us safe," Olofinsky said. "I live in an area where we have four different authorities owning different parts of the land surrounding us. From where I stand, all authorities should be made to maintain their land holdings and clear any undergrowth, and more fire breaks need to be implemented which, in turn, will create more recreation areas for exercise."
"We are powerless to prevent fires but, as owners, we should lobby our state and council representatives on a regular basis if we see fire loads mounting while they sit on their hands," he concluded.
Man accused of scamming $24,000 via phony bushfire relief claims
The Australian reported that a man will front court on Tuesday charged with scamming more than $24,000 out of the NSW Government and not-for-profit agencies by lodging phony claims for bushfire disaster relief.
Detectives launched an investigation in February into allegations of fraudulent claims for bushfire disaster compensation made by a 23-year-old man on the state's north coast.
On Sunday afternoon officers were called to a home in Kempsey following an unrelated domestic incident and arrested the man before taking him to the local police station.
He was slapped with 13 charges.
These include five counts of dishonestly obtaining property by deception, four counts of obtaining a financial advantage by deception and two counts of dealing in identification information and using it to commit fraud.
Charges also relate to stalking and intimidation.
Police will allege the Kempsey man lodged several bushfire disaster relief claims through both government and not-for-profit agencies and fraudulently obtained $24,500.
He was refused bail and will appear in Coffs Harbour Local Court on Tuesday.
Frogs the surprise survivors of Black Summer bushfires
About Regional reported that when we returned to our bushfire-ravaged rural home at Malua Bay, on the NSW South Coast, on New Year's Day, the last thing we expected to find were tiny green survivors in the blackened ruins of our garden. The only patch of colour was an old rhubarb plant, and tucked right at the base of its shrivelled leaves were tiny green frogs. For me, they were a welcome sign of nature's resilience and the surprise survivors of a firestorm.
Research from the Australian Museum and UNSW Sydney, published this week in the Conservation Science and Practice journal, reveals many frog species in southeastern Australia survived the unprecedented 2019-2020 summer bushfires.
By area burnt, the past bushfire season was the largest in southeastern Australia since European occupation, and that's had a dramatic impact on biodiversity, including frogs.
The amphibians are one of the most threatened groups of animals on earth and face many risks, including the growing threat of fires due to the climate crisis.
However, Dr Jodi Rowley, lead author of the research paper and chief scientist of FrogID, says we don't know enough about frogs' response to fire.
"There are limited studies on the impact of fire on Australian frogs so we urgently needed real-time data to understand how frogs fared after the fires, and to make sure we manage their conservation effectively," she says.
The massive size of the bushfire zone made it nearly impossible for scientists alone to survey for frogs in the months after the blazes.
However, by working with a team of thousands of citizen scientists using FrogID, scientists at the Australian Museum and UNSW were able to reveal that many frog species have remarkably persevered through the fire events.
FrogID is the Australian Museum's flagship national citizen science project that enables anyone to record and upload frog calls, along with time and location data, using a free app. By matching each FrogID record with satellite data on the bushfires, scientists were able to get a snapshot of the short-term persistence of frog species across southeastern Australia, up to four months after the Black Summer bushfires.
"Before the bushfires, FrogID recorded 2655 observations of 66 frog species in the fire zone, compared to 632 observations of 45 frog species in the first few months after the bushfires," says Dr Rowley.
"This research is really positive news, but the full impact of these fires on Australian frogs will not be evident for some time.
"The ability of Australian frogs to recover from this catastrophic event is unclear, particularly when you consider all the threats faced by frogs, including habitat modification, climate change and disease, to name just a few.
"Continued use of FrogID, combined with scientific surveys, will allow a greater understanding of the impact of the fires on these frog species in the immediate aftermath and further into the future. So keep on recording frogs, Australia."
The frog species recorded in burnt areas post-bushfire included common species of low conservation concern, as well as rare and threatened species including the threatened southern barred frog (Mixophyes balbus) and mountain frog (Philoria kundagungan).
Dr Corey Callaghan, postdoctoral research fellow at UNSW and co-author of the study, says the research provided a new understanding of how frogs respond to fire, illustrating the value of citizen science in collecting large-scale and rapid observations in response to the climate crisis and related natural disasters such as bushfires.
"Citizen science data is rapidly advancing our ecological knowledge," he says. "This research is a unique case, demonstrating the ability of citizen scientists to provide data that furthers understanding of biodiversity responses to bushfires."
The scientists say it's more important than ever for Australians to take part in the nation's biggest frog count.
FrogID Week runs from 6-15 November, 2020. Anyone can take part and it is easy to get involved. Simply download the free FrogID app and head outside to listen for frogs. When you hear a frog, record the sound with the FrogID app and submit it to the FrogID program.
Find out more at FrogID.
Thungutti Cultural Burning Team forge new way forward for bushfire management in the Macleay
The Canberra Times reported that Les Lockwood was part of the Thungutti team undertaking their first cultural burn recently.
Commonwealth Bank of Australia has taken another step forward on its journey to carbon neutrality, partnering with the Aboriginal Carbon Foundation
Mirage News reported that the Commonwealth Bank of Australia has taken another step forward on its journey to carbon neutrality, partnering with the Aboriginal Carbon Foundation.
To help offset all of its non-electricity emissions, including making allowances for employees who are working remotely, Commonwealth Bank has purchased carbon credits from the Aboriginal Carbon Foundation (AbCF) – the only Indigenous company in Australia to provide third-party verified Indigenous carbon credits.
AbCF is a not-for-profit organisation that enables environmental, social and cultural wealth for Aboriginal and Torres Strait Islander peoples, through the ethical trade of Australian carbon credit units (ACCU).
The Bank's partnership with AbCF will directly support the Kowanyama Carbon Project in Queensland, where the cultural practice of mosaic fire practice takes place early in the dry season – when the weather is cooler and the fuel load smaller – so that less country is burned and greenhouse gas emissions are reduced.
AbCF Chief Executive Officer, Rowan Foley, said the company's partnership with Commonwealth Bank will help support the employment of local Indigenous rangers as well as the continuation of cultural fire management practice. This practice combines western science with indigenous science and new technology such as the North Australian Fire Index, resulting in efficient burning.
"We're pleased to be able to provide Commonwealth Bank with ACCU with verified co-benefits. These carbon credits help provide local ranger jobs for the Traditional Owners, support the Kowanyama community, and assist in addressing climate change globally," Mr Foley said.
Commonwealth Bank's Executive General Manager Group Property and Security, Jennifer Saiz, said: "CBA is proud to assist Indigenous peoples with maintaining, controlling, protecting and developing their traditional knowledge which extends to the traditional burning practices and ecological knowledge that Indigenous carbon projects play a role in preserving."
Ms Saiz said the contract with AbCF represents a significant contribution toward Commonwealth Bank's Reconciliation Action Plan and further reinforces the Bank's commitment to tackling climate change in line with the Paris Agreement, supporting the responsible transition to net zero emissions by 2050.
"Since 2009, Commonwealth Bank has reduced its overall emissions by more than 60%, and this is an important step in becoming carbon neutral for our Australian operations. Despite this, we know there is still more work to be done and we will continue to proactively identify opportunities that help secure the wellbeing of Australians for generations to come," she said.
MidCoast Council's five step Get Ready campaign – Step 3: Preparing your home for bushfire
The Wingham Chronicle reported that the MidCoast Council's campaign to have every household in the council area bushfire ready has reached the half way point and it is checklist time.
Council's five step Get Ready series aimed at is aimed at ensuring every home has a bushfire survival plan and is prepared for bushfire danger season.
The previous two steps helped householders identify the bushfire risk for their property, and put together a bushfire survival plan – so that everyone in the home knows what they will do and where they will go in a bushfire emergency.
The third step comes with a list – a list of things to do to prepare your home and your yard before a bushfire threatens. And if you're on a farm or large property – there's a checklist for you too.
"A well prepared home is easier to defend against fire, and it's safer for you and for our volunteer firefighters," MidCoast Council's Mayor David West said.
"Get started by heading to midcoast.nsw.gov.au/getready and find the 'Step 3' information plus the Bushfire Survival Plan document. You'll find the NSW RFS Get ready videos there – for preparing your home, your yard and your rural property. The Plan has a checklist for preparing your home and yard."
If you can't physically do the work yourself, ask your family, friends or engage a service to help you. And if you have limited support from these sources, then the NSW RFS's AIDER service may be able to help you.
There's information at rfs.nsw.gov.au or you can call 8741 4955 or email aider@rfs.nsw.gov.au.
"We want to make sure everyone's home is as well prepared as possible each fire season," Mayor West said.
It's a fact that many homes are under-insured for bushfire, and can't be rebuilt for the amount they are insured for.
"This week, pull out your home insurance policy and review it. Check your insurance policy, and talk to your insurer if you think this might be the case."
Place a copy of your insurance documents in the emergency kit, or make sure you have the "Know Risk" insurance tracker app on your phone to keep track of your policies.
Once you've ticked off the jobs in the Bushfire Survival Plan Step 3, you'll be well prepared at the start of fire season.
"Revisit the list every few weeks, to make sure you stay on top of those home maintenance jobs that make your home safer against fire."
There's two more steps to Get Ready for bushfire season, with more tips to come over the coming weeks to help residents to be prepared.
If you are still recovering from last year's bushfires, please visit midcoast.nsw.gov.au/recovery or call 7955 7543. If reminders of the bushfires are causing issues for you, please call the Mental Healthline on 1800 011 511.
Port Macquarie Koala Hospital specialists join bushfire impacts research project
University of Adelaide-led research project will work with Port Macquarie's Koala Hospital to study the clinical data of koalas injured in last summer's devastating bushfires.
It is estimated that up to 80 per cent of the Kangaroo Island koalas and at least 30 per cent of populations in NSW died and many more were injured in the fires which swept across large areas of their habitats in eastern and southern Australia.
"Many of these bushfires occurred in koala habitat, and because koalas are eucalypt specialists and rely upon eucalypt trees for food, water and shelter, they are particularly vulnerable," project leader Dr Natasha Speight, koala health specialist at the University of Adelaide's School of Animal and Veterinary Sciences, said.
"These fires had a devastating impact on already vulnerable communities of koalas in Queensland, New South Wales, Victoria and South Australia.
"They were burnt or left dehydrated and hungry in the days following the fires, and their rescue and care largely relied on the tireless dedication of experienced koala rescue volunteers, and willingness of wildlife parks, wildlife hospitals, zoos and private veterinary clinics to receive hundreds of patients for treatment and care.
"They did an amazing job. Unfortunately we know it is very likely that there will be more fires in the future, and next time we want to help make sure these wonderful people have the best healthcare guidance at their fingertips."
With funding support from the Morris Animal Foundation's new Australian Wildlife Fund, the researchers will review how koalas were affected by the recent bushfires, based on clinical data recorded by wildlife and zoo veterinarians and rescue groups that treated the koalas caught in the fires in Kangaroo Island, Cudlee Creek near Adelaide, and near Port Macquarie.
"We will work closely with the key agencies that were involved in koala rescue and treatment from these regions including staff from Zoos SA, Kangaroo Island Wildlife Park, Adelaide Koala Rescue, and Port Macquarie Koala Hospital, as their hard work and dedication to koala welfare makes this study possible," Dr Speight said.
"The findings will help identify risk factors and treatment outcomes for koalas related to burns, smoke inhalation, dehydration, and disease. This new information will be essential for caring for koalas impacted by future bushfires."
News Roundup 17th October