Federal Government responds to bushfire royal commission, will create national state of emergency
The ABC reported that the Federal Government says it will create a new law that will allow it to declare a national state of emergency if needed during future natural disasters.
Key points:
The Government has supported or supported in principle most of the recommendations
It will introduce legislation to give it the power to declare a national state of emergency
It is not supporting the creation of a national aerial firefighting fleet
The idea was one of a raft of recommendations made by the Royal Commission into National Natural Disaster Arrangements, called in the wake of the 2019-20 bushfire season.
The national state of emergency would allow the Government to take action and provide help to states and territories facing threats, even if they have not asked for it.
In its response to the commission's final report, the Government said it would introduce legislation to enable the declaration.
"The Commonwealth Government supports and welcomes this recommendation which recognises that such a declaration is necessary in an 'all hazards' approach to national natural disaster events, including those beyond fires and floods," it said.
"A National Emergency Declaration will facilitate expeditious national responses, allowing provision of capabilities beyond the capacities of individual states and territories."
The Commonwealth said itwould work with states and territories to look at what it could do to best "complement actions" made by jurisdictions in emergency situations where the declaration is made.Why the royal commission's report is not about blameAnyone hoping the pages of the commission's final report would deliver a reckoning or apportion blame over the handling of the fire season will be largely disappointed.Read more
Emergency Management Minister David Littleproud said the Government would introduce the legislation before Christmas.
"We will define the trigger points in the legislation, as to what is the exact juncture in which the Federal Government would surge in with its assets," he said.
"It would depend on the type of disaster as to what agencies would be involved."
The 80 recommendations from the commission provided advice on a range of areas, from the coordination of all levels of government during emergencies, warning systems for the public, climate data, the role of the Australian Defence Force and how charities and other groups can best respond in the wake of disasters.
No support for national aerial firefighting fleet
While the Government supported, or supported in principle, most of the 55 recommendations directed at it specifically or all levels of government, it will not take on board the recommendation to establish a sovereign aerial firefighting fleet.
In its final report, the commission suggested the Australian, state and territory governments should create a national firefighting fleet, and resource it with at least one very large or large air tanker and extra pilots and support staff.
At the moment, states own specific firefighting planes and lend them to other jurisdictions when in need, but the states and territories also rely on being able to borrow extra-large air tankers from other countries.
The Government noted the recommendation, but said it acknowledged the "maturity, experience and effectiveness" of the current aerial capabilities of the states and territories.
"The Commonwealth has no desire to replicate or replace these capabilities," it said.
"The Commonwealth encourages states and territories to work collaboratively and with industry to build Australian-based aerial firefighting capacity, consistent with their sovereign obligations to maintain appropriate operational response capabilities."
It also noted a suggestion that Emergency Management Australia should be in charge of managing the new fleet, saying it was "comfortable" with the National Aerial Firefighting Centre (NAFC) retaining control.
"The Commonwealth will continue its annual contribution of $26 million to the NAFC, indexed from 2020-21," it said.
Mr Littleproud said the Government "does not and has never" decided which type of aircraft come into the country, but would support states and territories to continue to do so through its current funding arrangements with them.
The Government's response comes on the same day as the latest Bureau of Meteorology and the CSIRO biannual report on the climate which shows Australia is already experiencing climate change.
"One of the key findings, conclusions, of the royal commission was that the locked-in impacts of climate change already that are there largely set an elevated risk for the next 20 years," Prime Minister Scott Morrison said.
"The report actually says that, regardless of what might happen in terms of emissions reduction, that is a known quantity.
"As a result, a key part of dealing with climate change in this country is dealing with the resilience to what is already there."
The Government will also be establishing a new national disaster recovery agency that will look after all natural disasters.
"That will bring together the current flood and drought agencies and bushfire agencies," Mr Littleproud said.
You can read the commission's final report here.
Coulson partners with Linfox to form consortium for fighting bushfires
Fire Aviation reported that Coulson Aviation and Linfox have agreed to work together in a consortium to help Australians suppress bushfires. Coulson will bring helicopters and air tankers to the table to work with the logistics company Linfox, with both presently operating on multiple continents.
The proposed fleet of large fixed wing air tankers, super heavy helicopters, and fire intelligence gathering aircraft will be based and operated throughout the State and Territories in Australia, with maintenance and support infrastructure supplied in New South Wales and Victoria.
The team intends to work with State Governments, Territories, emergency services agencies, and within any framework agreed by the Federal Government. Australia has one of the largest volunteer firefighting forces in the world. They intend to build a world class training facility and center of excellence for volunteers to create a strong, intelligence-led and informed approach to firefighting.
The 365 day a year fleet is intended to offer firebombing, intelligence gathering, and aerial firefighting support services during the fire seasons, but also search and rescue, surveillance and medical evacuation services at other times.
The combining of the two company's unique skill sets will allow the consortium to set up remote bases where aircraft can reload retardant close to a live fire zone, rather than having to fly, sometimes for hours, to the nearest airport – and then back again.
Chairman of Coulson Aviation Australia, Wayne Coulson said, 'We've learned through many major fire campaigns globally the enormous effect of large capacity air tankers in managing bushfires, particularly when we bring the fight at night; this results in lives saved and houses standing and that's why we do what we do.'
"There is always an opportunity to improve our nation's approach to aerial firefighting,'' added Lindsay Fox, founder of Linfox. "Each of the States and Territories are responsible for their own emergency response, so each response varies. As our fire seasons get longer – and become more dangerous and unpredictable, the most sensible – and safe – solution is a co-ordinated, national approach."
GOING ABOVE AND BEYOND: Two Iconic Families Unite to Establish Australia's First National Aerial Firefighting Service
You can read the Coulson release here.
Spencer RFS appoints new captain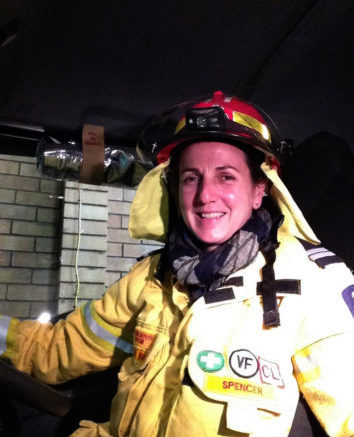 Coast Community News reported that Alison Wade has officially been declared the first female captain for Spencer's Rural Fire Service Brigade.
Spencer RFS is the first and only brigade she has been with since 2004.
"It is a proud moment to be leading the brigade," Wade said.
"There are around 20 volunteers who work, in Spencer and everyone puts in a lot of work."
Wade has been acting captain for over a year since former captain, Jock Ross, found himself recovering after a motorbike crash at Wisemans Ferry.
Wade said being captain of the Spencer brigade ran in the family.
"My relative Hugh Woodbury was the original captain of Spencer Fire Brigade for 23 years, finishing around 2002," she said.
"Before he sadly passed away, I promised him I would be the captain one day, so here I am."
Coming into the hotter summer months, Wade has some big shoes to fill.
However, she is not as worried as she was at this time last year.
"There are concerns regarding grass fires out west," Wade said.
"I think around the Central Coast area we should be okay.
"In saying that, because of the rain we have had this year, everything has grown back very well and there is still a lot of fuel load.
"The threat is not as high, but we cannot be complacent.
"It has not been soaking rain either, so the ground is still relatively dry.
"We have lost a lot topsoil from the previous fires and the rain has helped wash a lot of it away.
"Gum trees after bushfires shed their bark on to the ground which adds to that extra fuel."
Facebook to send bushfire emergency alerts
The Blue Mountain Gazette reported that Australia's bushfire response is set to be bolstered with social media giant Facebook to provide local emergency alerts.
Approved state fire authorities will be able to send urgent notifications to people who follow their Facebook pages using the Local Alerts tool.
The tool, which also allows posts to be marked as alerts so they stand out in a user's news feed, will be extended to Australian fire services by the end of the year and to other eligible state and local government departments throughout 2021.
Most state fire services already have geographically-based SMS emergency alerts and ways of disseminating information through traditional media.
Resilience NSW commissioner Shane Fitzsimmons, who led NSW's response to the deadly bushfires that ravaged much of Australia last summer, said fire services were investing considerably in new communication systems.
"We were using social media and Facebook as an information-gathering tool," Mr Fitzsimmons said in a statement on Tuesday.
"It all helped build our intelligence and ratify our understanding of where things were up to. We learnt extraordinarily through that period that the more we provided, the more people wanted to know, and the more people were happy to share."
The Black Summer bushfires raged across 10 million hectares, took 33 lives and destroyed 10,000 homes and other structures.
More than 80,000 head of livestock were killed and millions of native plants and animals were lost.
Facebook's local head of policy programs Alisha Elliott said Australians were increasingly turning to social media to find information.
"We're thrilled to be the second country globally to expand Local Alerts and provide local fire authorities and emergency services with another avenue to relay vital information in affected areas," she said.
"As we approach another tough summer, Facebook will continue to support communities and keep them connected."
Manildra Flour Mill fire, Fire and Rescue NSW, Rural Fire Service called to scene
Parkes Champion Post reported that firefighters remained at the scene of a fire at Manildra Flour Mill on Wednesday morning after spending the night bringing it under control.
Canobolas Zone Rural Fire Service duty officer Nils Waite said seven RFS crews and two Fire and Rescue NSW crews were called out to a fire at the mill at 10.30pm on Tuesday.
The fire started in the cleaning section of the mill.
All employees were immediately evacuated from the site and no employees were injured during the incident.
The incident has been contained and the fire is now under investigation.
The road to Manildra from Parkes is still closed in both directions, last updated on Live Traffic NSW at 6.48pm Wednesday, with diversions sending motorists to Eugowra, then The Escort Way to Cudal and onto Orange.
"They were working along there and they were working along a pipeline where the material gets passed through right back to [a] hopper," Mr Waite said.
"We had a shift change between 3am and 4am. They are still currently there.
"We had a bin of four we [had] to get out."
"It's just working out how to do it safely so we don't get a dust explosion," Mr Waite said.
Although this is not the first fire at the mill, Mr Waite said it is not a regular occurrence.
As at 8.30am Wednesday morning he said there were eight Fire and Rescue NSW staff and 10 RFS volunteers still extinguishing the fire.
Lithgow Council to host community bushfire recovery meeting to prepare residents for fire season
Residents from Lithgow, Blue Mountains and surrounds are being urged to attend the upcoming Bushfire Recovery and Community Day.
Council stated the free event which will be held on Saturday and Sunday December 5 and 6 at the Civic Ballroom in Lithgow, is to bring together community, emergency and recovery services all under one roof to support, prepare and empower bushfire affected communities.
Lithgow mayor Ray Thompson said he strongly encouraged residents to attend the event to receive vital information and connect with important recovery services.
"The 2019-2020 bushfires directly impacted 53 per cent of the Lithgow LGA," he said.
"Following such devastation, Lithgow Council wants to ensure everyone in the community feels supported and connected."
Mayor Thompson said many residents have experienced trauma, financial hardship, and loss of property.
"This event will bring together all the vital services for residents to gain support, be equipped with the information they need to be prepared and stay safe," he said.
"It's also an opportunity to acknowledge the outstanding commitment of all our volunteers who have supported communities of greater Lithgow during and after the 2019/ 2020 bushfires."
The Bushfire Recovery and Community Day will offer the same event program across both Saturday and Sunday.
The inaugural event will feature an expo of bushfire products and services, engaging presentations from bushfire experts and informative workshops sharing knowledge and experience.
Bushfire recovery support services will also provide information on available assistance.
Due to COVID Safe protocols, registration via the ticketing system is essential to allow for COVID-19 contact tracing.
To register, click here or by phoning Rachel Nicoll on 6354 9999.
For further information head to www.council.lithgow.com or the Facebook event here.
If you would like to book a stall to exhibit a relevant bushfire recovery, wellbeing or bushfire protection product or service please contact Rachel Nicoll on 6354 9999.
The event will run from 9am until 3pm on both days.
Private fires a leading cause of bushfire: new data
Mirage News reported that more than a quarter (27%) of bushfires* are caused by escaped private fires, equating to more than 6,100 bushfires over the past 10 bushfire seasons that should never have happened, new CFA data shows.
Aged care providers warned to have emergency plans in place for bushfire season
The Weekly Source reported that the Department of Health has issued a warning for aged care providers to prepare sites, staff and clients for the threat of bushfires and extreme weather events after last year's horrific season.
"The Aged Care Quality Standards require service providers to have effective risk management systems and practices to maintain quality care in these emergency circumstances," the Department said in a statement issued this week.
The Department advises service providers to:
Contact local fire authorities to discuss bushfire implications and possible requirements
Ensure daily lists of all onsite residents are updated
Continually monitor local emergency broadcasting services for information
Ensure evacuation plans include realistic arrangements for transportation and alternative accommodation, and provision for resident identification and care plan documents
You can find a comprehensive list of requirements here.
Indigenous fire management set to scale up in Bega Valley after devastating Black Summer bushfires
The ABC reported that Last season's bushfires, the worst in Australia's recorded history, have led to a surge in interest in how traditional Indigenous fire management can heal and protect the landscape.
Key points:
The Bega Local Aboriginal Land Council began a cultural burning program in 2017
Cultural burns helped protect Bega LALC landholdings in the 2018 Tathra bushfire
Fifteen participants are in training preparing to expand the cultural burning program
In the Bega Valley, where bushfires impacted more than 75 per cent of bushland and forests last spring and summer, the Bega Local Aboriginal Land Council welcomed the recognition and support for their cultural burning practice.
"The interest from the broader community, particularly since the bushfires, has increased exponentially," said Glenn Willcox, CEO of the Bega Local Aboriginal Land Council.
The land council was able to secure financial support to continue their successful traditional fire management program on their landholdings near the residential communities of Merimbula and Tura Beach, one of the last areas of coastal bushland untouched by last season's far south coast wildfires.
The group spent the winter months conducting burns and were documenting the positive impact on vulnerable native species.
They were now working towards expanding the crew to scale up their cultural burning program next year.
"The problems that caused last summer's wildfires took a long time to get to that point. It's going to take a while for those issues to be resolved using the cultural approach," Mr Willcox said.
"But you've got to start small and build from there, so that's what we're doing."https://www.youtube.com/embed/LAh_isfug14?feature=oembed&enablejsapi=1&origin=https%3A%2F%2Fwww.abc.net.auYOUTUBERebirth of cultural burning in the Bega Valley
Taking on new recruits
The first step was to organise a nationally accredited Respond to Wildfire course on country at Wallagoot, a qualification required to work in collaboration with other agencies like National Parks and the NSW Rural Fire Service.
Fifteen participants enrolled in the course through the Bega and Eden local Aboriginal land councils.
Veteran firefighters Barry Aitchison and Mick Holton were contracted by Indigenous-owned registered training organisation Walan Miya to deliver the training.
"Any opportunity that I can get to work with Indigenous Australians is good for me because I learn as well as share some of my knowledge," Mr Holton said.
"Cultural burning is something that we need to watch and learn and listen to because I think it's the only way that we're going to save ourselves into the future."
Find more local news
Bringing knowledge back
Quentin Aldridge saw the devastation of the summer bushfires firsthand when he was involved in bushfire recovery work, clearing properties in communities south of his home in Eden.
He could see the potential of cultural burning to heal the landscape and prevent future wildfires.NAIDOC Week 2020Explore NAIDOC Week content from across the ABC.Read more
"A few generations might have missed it, but now cultural burning is coming back," Mr Aldridge said.
"I heard about it when I was a young bloke, and now seeing these young blokes do it in practice is just unreal."
For Lesley Darcy-Briggs, the training was an important opportunity for more women to be involved in traditional fire management.
"In Indigenous culture we have certain sacred lands where only women can be on," Ms Darcy-Briggs said.
"So we have to get the women more involved, taking care of our sacred sites as women, and to pass that down to the younger generations."
Considering cultural sites
In his submission to the Bushfire Royal Commission and the NSW Independent Bushfire Inquiry, elder Graham Moore called on governments to recognise cultural sites in asset protection planning.
"First is obviously protecting humans, then houses," Mr Moore said.
"Our sites should be given the same consideration as houses, be held at that same value."
Across Australia, thousands of Indigenous cultural sites are feared to have been damaged or destroyed in last season's bushfires — many of them undocumented.
Mr Moore also wanted to see a greater awareness of Indigenous cultural heritage in the way emergencies were managed.
"Fire trails and turnaround bays are normally on ridge lines where many of our sites are. Artefacts and scar trees are put at risk," he said.How do Indigenous fire practices actually work?As Australia's bushfire emergency rages on, discussion over fire authorities' potential use of Indigenous and cultural fire practices has come under the spotlight. But what are these practices, where can they be implemented and how can they help?Read more
For Julie Green, the recognition of cultural burning by the wider community had been one positive outcome of the tragic bushfires that burnt 5.5 million hectares in NSW in 2019–2020.
"It's about time that everybody starts coming together and understanding," Ms Green said.
"It's something for everyone to learn and appreciate.
"We live in a big country and there are always going to be bushfires, but if we can do our cultural burns then we might not have problems like we had last summer down here.
Australia to set up new agency to respond to natural disasters like bushfires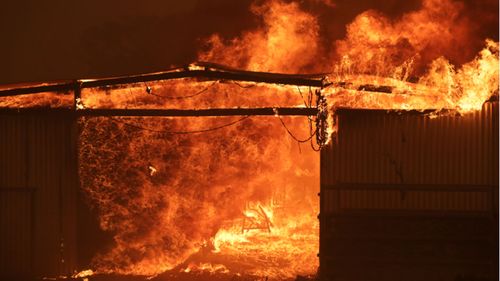 Nine News reported that the government will be able to declare a national emergency in the case of bushfires like those that engulfed the country last summer.Emergency Services minister David Littleproud said a new organisation called the National Disaster Recovery Agency will also be set up in response to the recommendations by a royal commission into last summer's disastrous bushfires."It's important to leave a legacy from this tragic event over the summer, to make sure we learn the lessons, and to build on that, to build a more resilient Australia," Minister Littleproud, said.
"This is a partnership, one we will work together with the states to achieve."Before Christmas, the federal government will be bringing in to Parliament legislation to declare a state of emergency."We will not be taking over the operational management of disasters. That is the remit of the states.
"They are the professionals, the ones that do it better than anyone else in the world, I believe, right here in Australia."We will allow them to continue to do that."But where there is needed to be a surge of resources, then the Australian government will come in with its agency, whether that be the Defence Force or any other federal agency, to achieve that."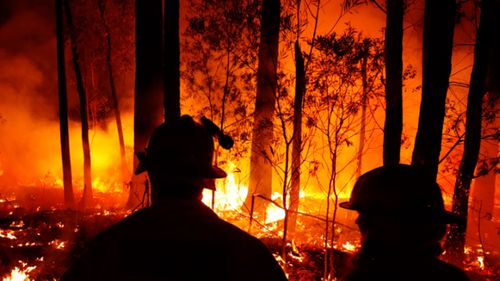 Key recommendations from the 80 made called for better coordination between all levels of government.The report also recommended an urgent overhaul of fire warning systems, and called for nationwide emergency warning app.During the 2019-2020 season, 24 million hectares of land was burnt, 3000 homes destroyed, and three billion animals were killed or displaced.Thirty-three people died, including six Australian firefighters and three American aerial firefighters killed when their aircraft crashed.Evidence from more than 270 witnesses, 80,000 pages of tendered documents, and 1750 public submissions was compiled into a 579-page report.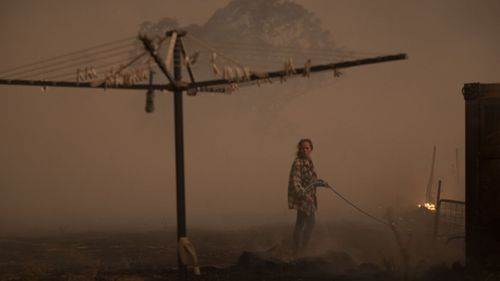 A new agency called Resilience Australia will also bring together 10 scientific groups to prepare for natural disasters.And Mr Littleproud said the knowledge of indigenous Australians will be used, on tackling issues like hazard reduction.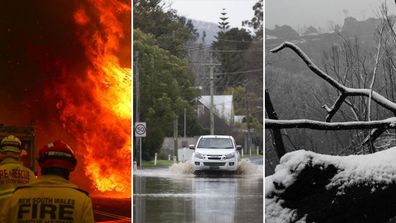 Fire, snow and floods: The weather extremes of 2020View GalleryThe federal government will not establish a sovereign aerial firefighting fleet as was recommended.The way charity donations are passed on to victims of natural disasters will also be overhauled.Millions of dollars was donated from around the world to bushfire charities last year.
Georgeina's baptism of fire puts her in good stead for the bushfire season ahead
The Riot ACT reported that Georgeina Whelan has a bed ready to roll out at the headquarters of the ACT Emergency Services Agency at Fairbairn as she settles in for her second bushfire season as commissioner.
Last season, she was renowned for rolling up her sleeves and repeatedly staying overnight when the going got tough as the bushfires burned into the collective consciousness of Canberrans during what will be remembered as the 'black summer'.
Season 2020-21 is looking significantly different, but that doesn't mean Georgeina Whelan is resting on her laurels.
In 2005 in the wake of the tsunami that hit Thailand and much of Sumatra following a devastating earthquake on Boxing Day 2004, the then Brigadier Whelan was brought in to set up a field hospital on the Royal Australian Navy ship HMAS Kanimbla.
Her actions were lauded then, as they were again during last summer's bushfires, but they were not without criticism too.
Commissioner Whelan accepts a quicker response in Sumatra may have saved more lives in the same way she would have done some things differently last summer.
ESA Commissioner Georgeina Whelan at the launch of the firefighter's coin at the Mint on 29 October. Photo: Michael Weaver.
"There were so many similarities with what I experienced in Sumatra and this summer, where you could have cut me out of one scenario and put me into the other one," Commissioner Whelan tells Region Media.
"It's not until you're in a crisis that you see the gaps in the systems, but I think the experience of last year has made us focus on it being a learning experience and really embracing the learnings that have come out of the season and applying solutions to those problems we faced."
But Commissioner Whelan said she would rather take the criticism than face the consequences of an unprecedented bushfire season – and she doesn't use the word 'unprecedented' lightly.
"I watched fire move from Queensland down the east coast of Australia. We saw fires run 75 kilometres overnight on the NSW south coast.
"I'm not saying that we got it right here in the ACT or did it any better, but we leveraged off situations not happening here first and observed and learned from what our colleagues were experiencing in other states."
---
READ ALSO: Bushfire Royal Commission makes 80 recommendations but steers clear of emissions
---
During the offseason, Commissioner Whelan took a well-earned break – albeit to have surgery on a broken ankle and nose when she slipped on a flight of stairs before being appointed commissioner last year.
"I had two weeks off and a couple of long weekends as well. I've had enough time off to catch my breath and do a lot of personal reflection. Getting my nose fixed was really important with the hayfever at the moment."
The commissioner has also had the chance to reflect on least three separate inquiries into the summer's bushfires as well as the ESA's spotlight on feedback from paid and volunteer members.
She said many of the recommendations from the Bushfire Royal Commission may take several years to implement, but words such as "forward-leaning", "agile" and "robust" feature in Commissioner Whelan's narrative to ensure the unprecedented is more predictable.
And of course, there is her "team of teams" which has grown to include a deputy commissioner in former ACT chief police officer Ray Johnson, along with a 25 per cent increase in paid Rural Fire Service staff and additional resources for operations, training and planning especially in the ACT Rural Fire Service and State Emergency Service. ACT Rural Fire Service acting chief Rowan Scott's position will also be confirmed in the coming weeks.
The Commissioner also admits they were "stretched thin" last season.
ESA Commissioner Georgeina Whelan with acting ACT RFS chief Rowan Scott and Parks and Conservation Service firefighters. Photo: Michelle Kroll.
"What we were not well prepared for was to run a seven-week campaign and sometimes you just know you're not prepared for something until it confronts you. We had the skillsets, we were just stretched pretty thin and there were times when I said I would never like to go through that experience again."
Commissioner Whelan said new legislation allowing more delegation of responsibilities will ensure last year's experience remains unprecedented.
Work is also being done to remove the inconsistency with messaging, particularly when a fire like the Orroral Valley fire crossed into NSW and became the Clear Range fire.
And there's always a bed for the commissioner whose 'baptism of fire' last season will put her in good stead for many more to come.
"There's a level of redundancy in the agency now that will allow us to transition from four and five-day campaigns to seven-week campaigns, so there should be no requirement for me to be sleeping in my office this season. But there's a roll-out bed there just in case."
Meet Queensland's first all-women Aboriginal ranger crew
Using traditional and modern knowledge, rangers in Far North Queensland are conducting controlled fires to protect their country and inspire the next generation of recruits, reports SBS.
Queensland's first all-women Aboriginal ranger crew are carrying out a cool burn in the state's tropical far north when the flames are suddenly stoked by a gust of wind.
A quick discussion over a two-way radio and a split-second decision to put the fire out show their training in action.
"If you have to put it out, put it out." … "I think we're going to have to, 'cause it's too hot." https://bb865b7b3fa195e724986f9876f644a6.safeframe.googlesyndication.com/safeframe/1-0-37/html/container.html
The crew are part of the Girringun Aboriginal Corporation rangers, based in the coastal town of Cardwell, and have been taking on the unconventional roles of conducting cool burns across the region.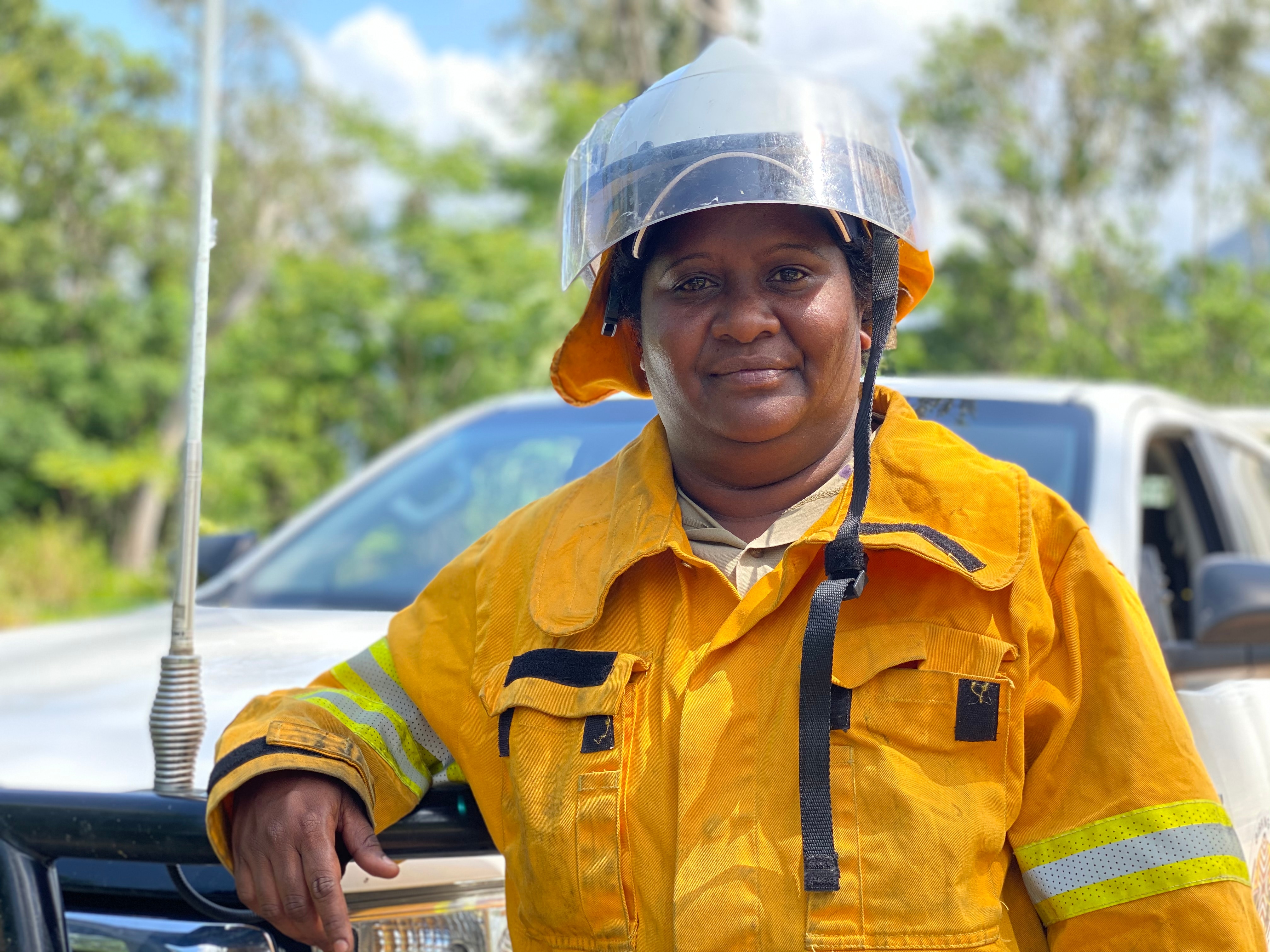 The crew are part of the Girringun Aboriginal Corporation rangersStefan Armbruster/SBS News
Cool burning – also referred to as cultural burning – sees small, controlled blazes lit to clear the undergrowth and reduce the amount of damage a hot, wildfire can cause to the ecosystem.
This was their second time conducting one on Girramay Country without their male colleagues and was led by ranger coordinator Cindy-Lou Togo.
"It's good to have that connection with country, with fire," she tells SBS News. "It brings back the natural growth and it shows the elders that we're trying to bring back the traditional way of burning country."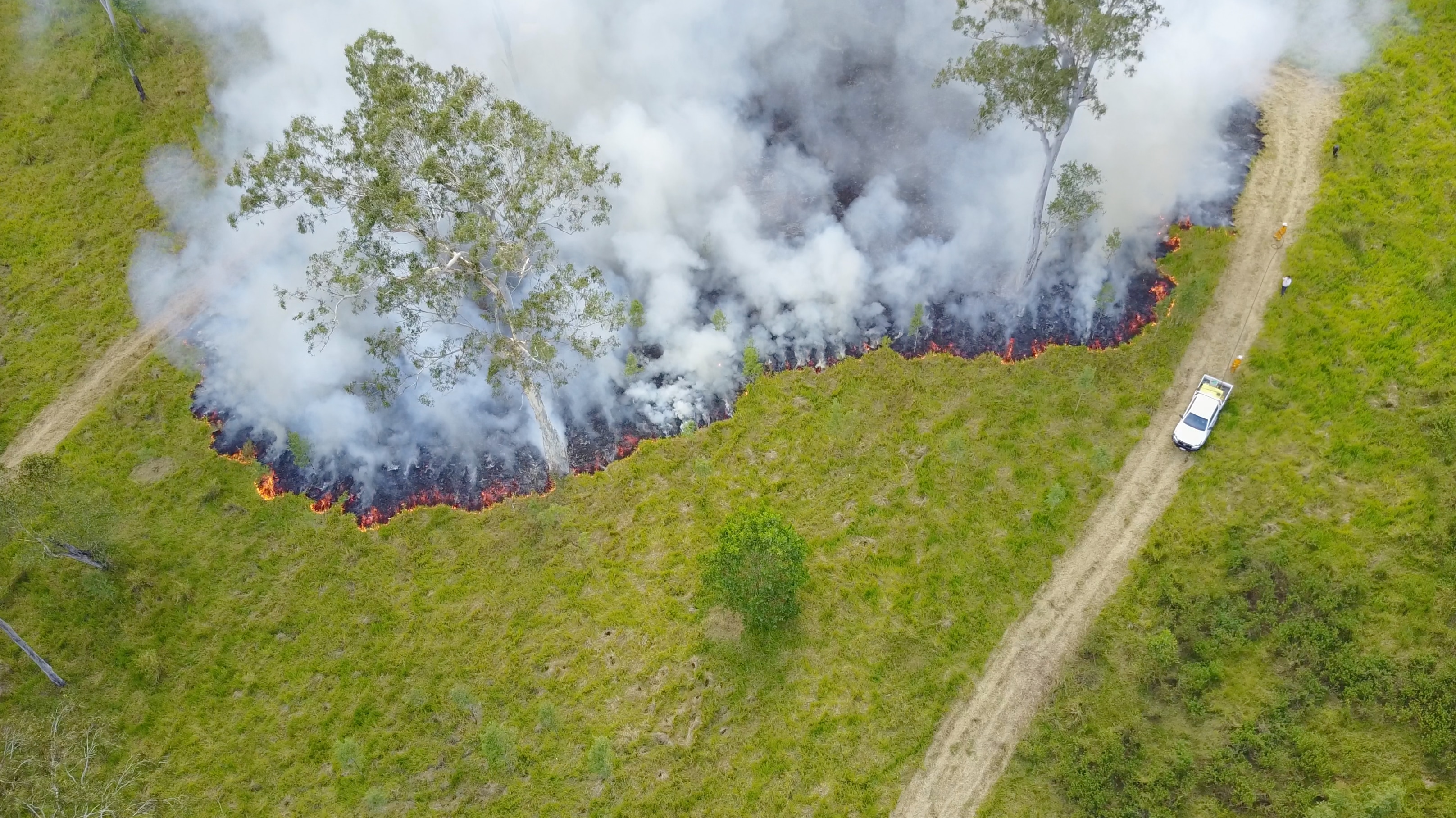 Cool burning involves lighting a small, controlled blaze.Stefan Armbruster/SBS News
Ms Togo is from Bundjalung Country in northern New South Wales but has lived in the region for two decades, 10 of which she has worked as a ranger.
"It's changed my life. I never thought I'd become a ranger but I like being outdoors and looking after country is awesome," she says.
"It's a bit like cleaning your house, you know. You gotta clean your house and make everything look good, so a burn is like cleaning the floor to make everything look good."
It's a bit like cleaning your house … a burn is like cleaning the floor to make everything look good.

– CINDY-LOU TOGO, RANGER COORDINATOR
And she's inspiring the next generation of young women rangers.
"The elders will be proud. They might have younger generations going, 'oh yeah, well they got it, we can do it too'." 
Recognition of traditional burning practices in maintaining Australia's landscape and its incorporation into contemporary methods isn't just improving the health of the environment. The women have also been bringing social, cultural, and economic benefits to their people.
"It'll give them more tickets when they get out into the world," Ms Togo says.
"Even if they go work somewhere else, that's fine, they'll still have some tickets under their belt to go out into the real world from the ranger position."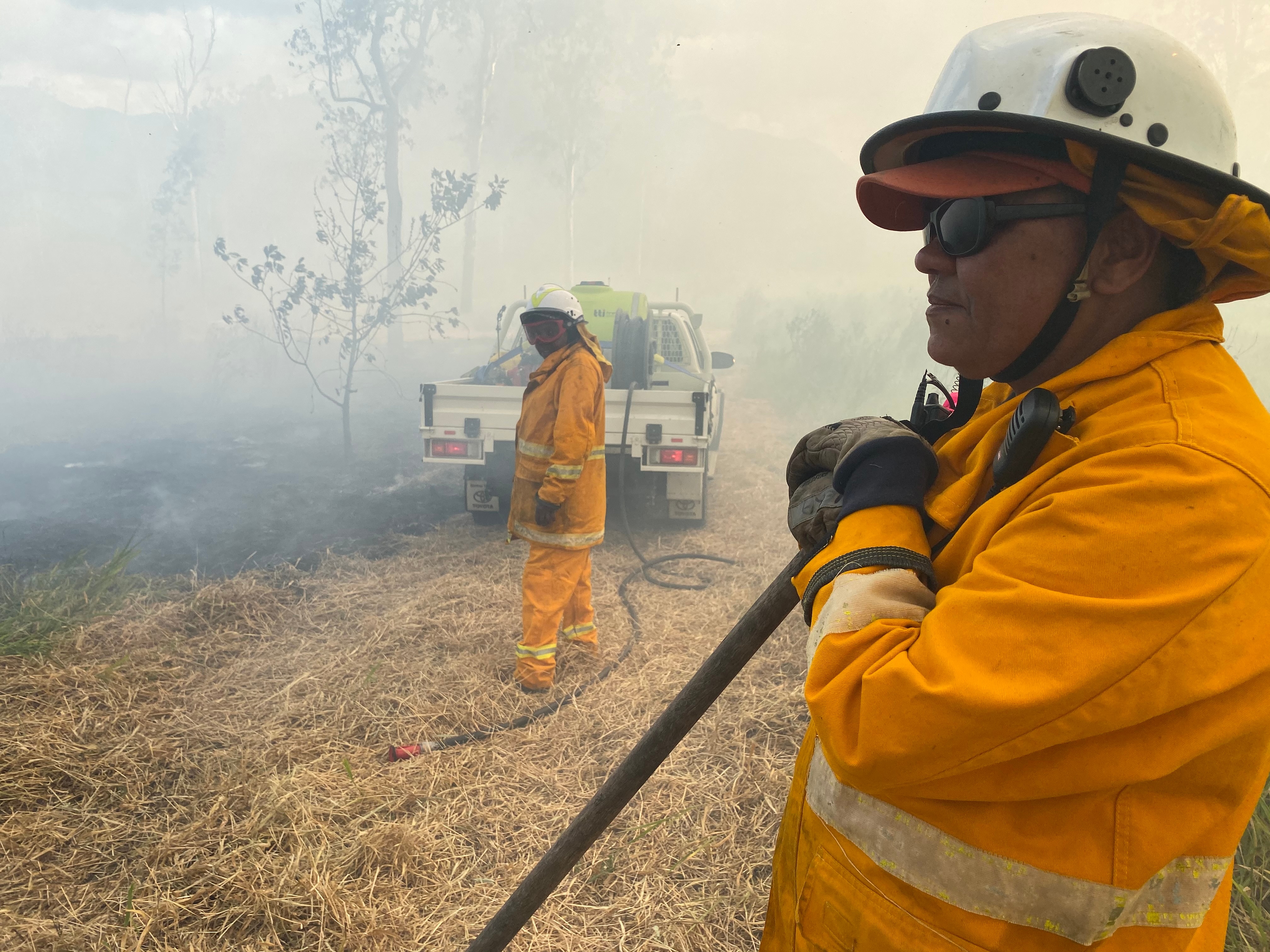 Cool burning is also referred to as cultural burning.Stefan Armbruster/SBS News
Traditional Owners have also ignited the passion and love for Girramay land and culture among the new recruits.
"Not growing up this way, I didn't know too much about it," ranger Olivia Mooka says. READ MORE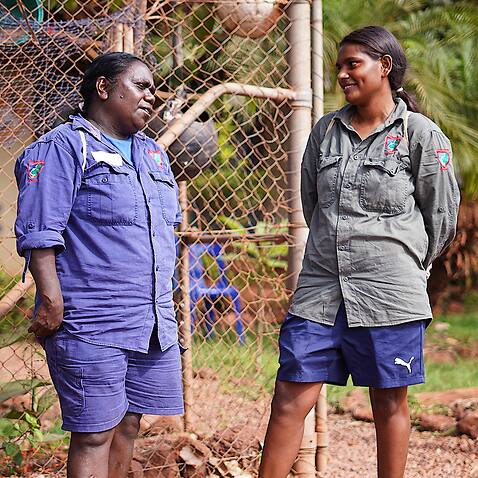 "Within the last two-and-a-half years I feel like I've learnt a lot more and met a lot of family that I didn't know about."
Ms Mooka says the work also pays respects to generations who came before her.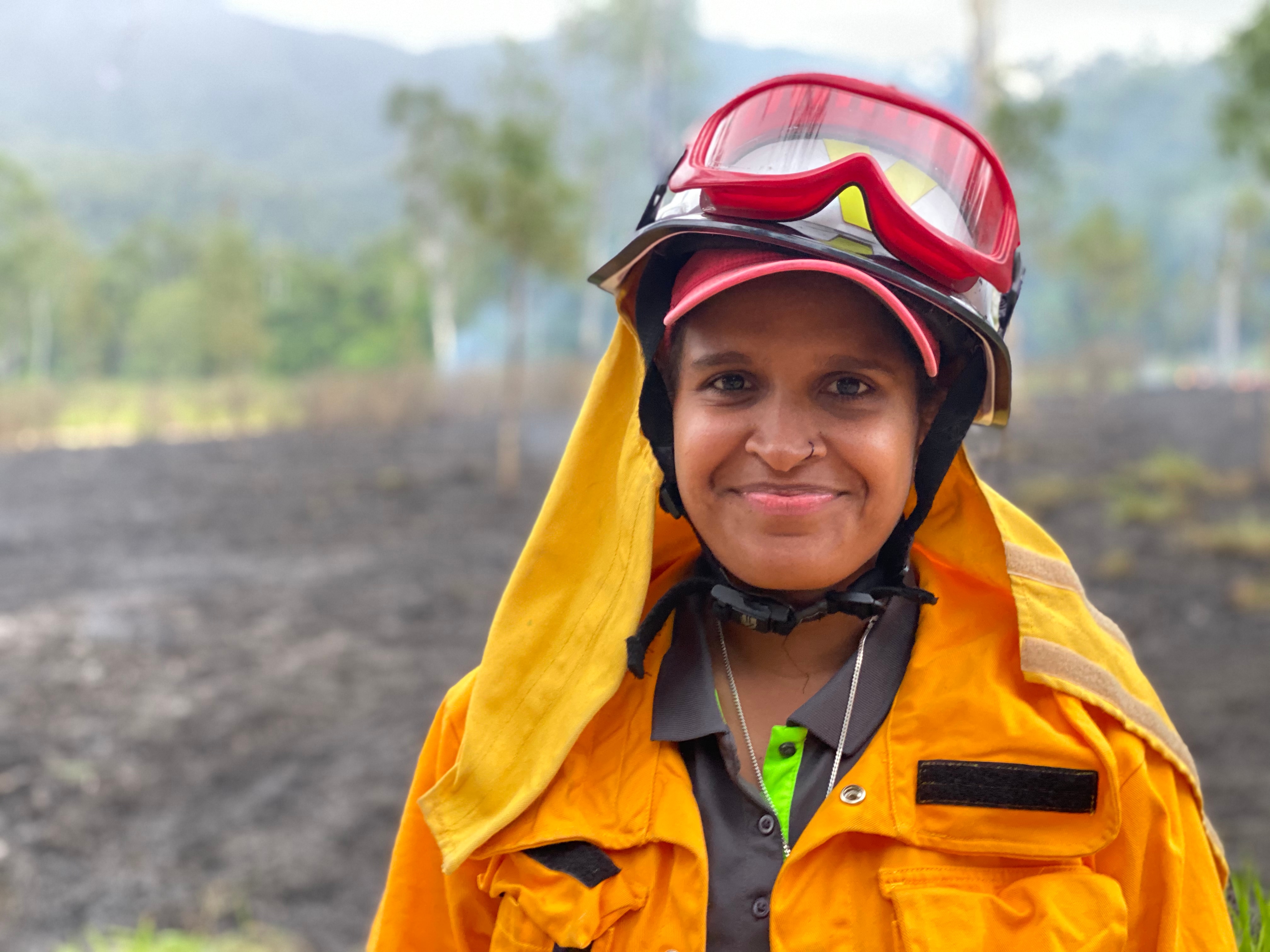 New recruit Olivia Mooka.Stefan Armbruster/SBS News
"It gives the recognition to people who were here long before colonisation. You're never going to forget what they went through, and the people who grew up back then, to make this what it is now." 
Cool burns are predominantly seen in northern Australian regions where caring for country programs allow Traditional Owners to burn according to seasonal need and cultural knowledge.
In Cardwell, the rangers are working together with environmental scientists to preserve and restore wildlife habitats.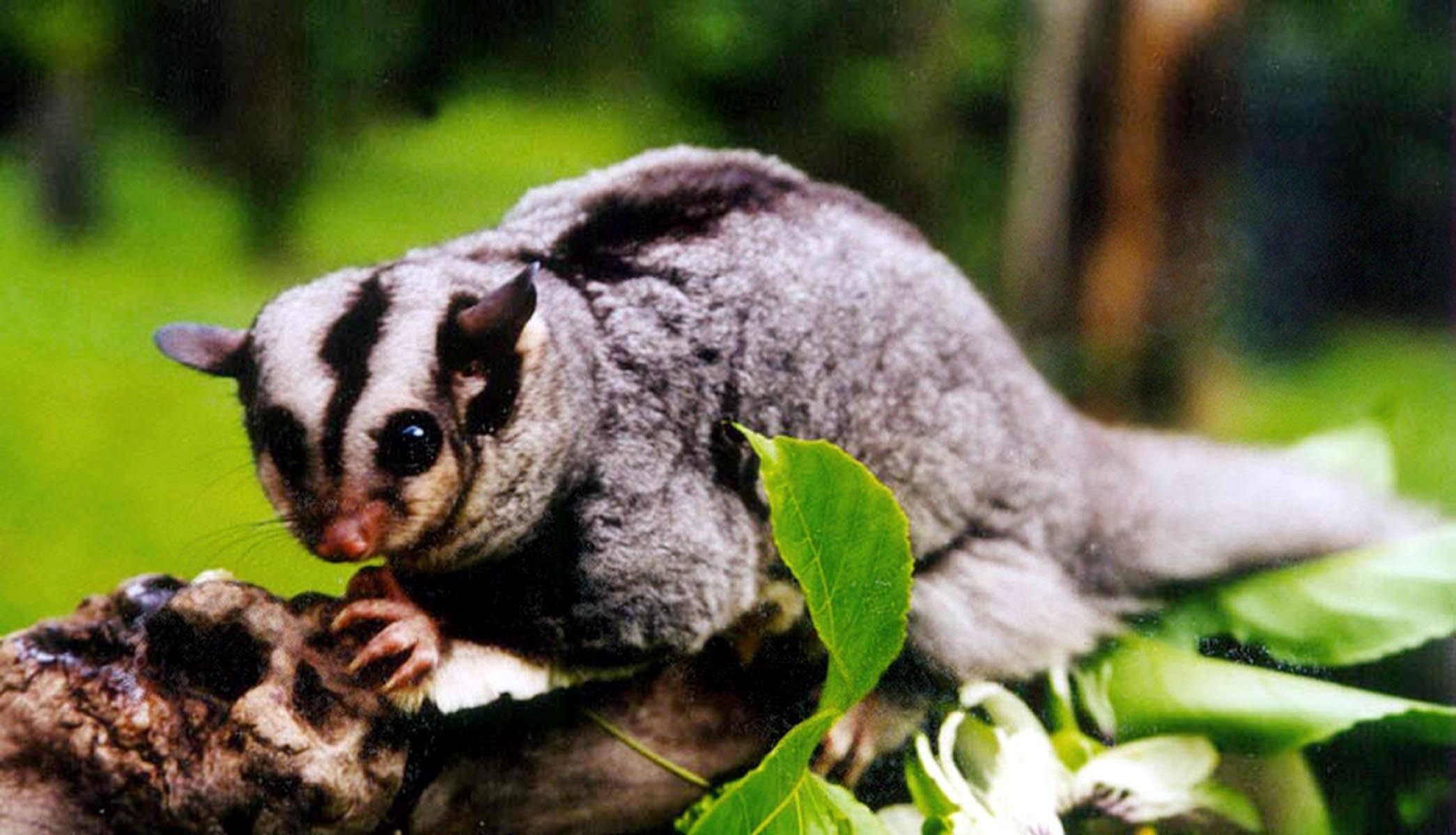 The cool burns are beneficial for the endangered mahogany glider.FNTS/AAP
"Just five minutes after the fire itself has passed you can touch the ground with your bare hands," says Jacqui Diggins from natural resource management company Terrain.
Here, the focus is on the endangered mahogany glider.
"Fire management is critical to saving this animal," Ms Diggins says. "So, we're not only working with the threatened species, but also with the Traditional Owners [to help save it]."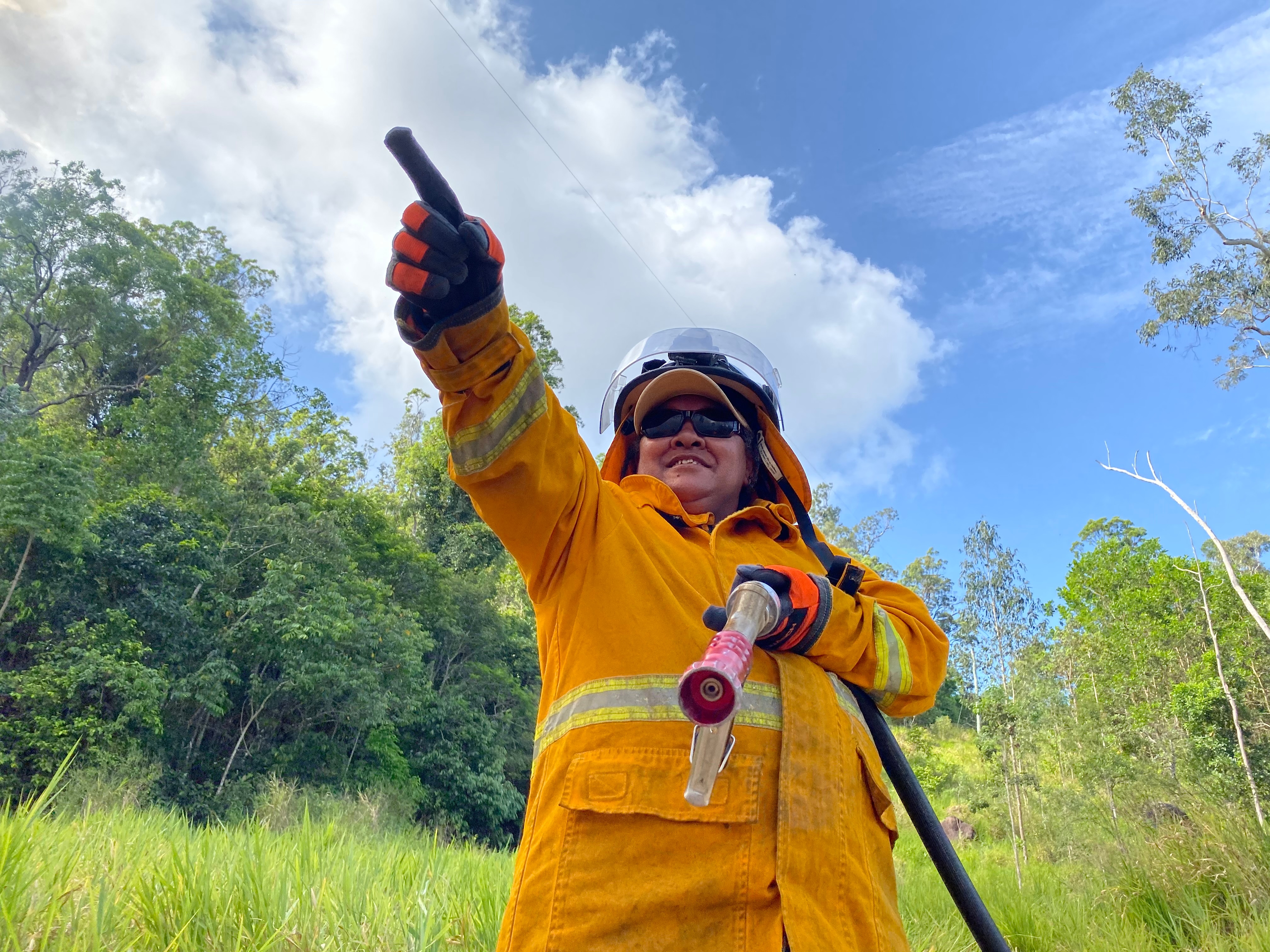 Cool burns are predominantly seen in northern Australian regions.Stefan Armbruster/SBS News
On the edge of the rainforest, property owner Royd Blunden has also sought the skills from the women in the crew.
"It's Indigenous knowledge which I'm very interest in," he says. "[Asking them to help] with their traditional burning practices makes sense."
"I think they're doing an awesome job and good on them, they don't need the boys."
National NAIDOC Week (8–15 November 2020) celebrates the history, culture and achievements of Aboriginal and Torres Strait Islander peoples.
Join SBS and NITV for a full slate of NAIDOC Week content. For more information about NAIDOC Week or this year's theme, head to the official NAIDOC Week website.
One property, two fires
The Deniliquin Pastoral Times reported that more than $200,000 worth of hay was destroyed by fire in two separate incidents at the same property on the Caldwell-Line Rd on Monday and Tuesday.
Rural Fire Service firefighters from the Caldwell, Tantonan and Bunnaloo brigades responded to the first fire at 6.50pm on November 9.
A stack of 800 hay bales weighing about 600 tonne was completely destroyed, due to spontaneous combustion.
Two caravans parked close to the hay stack were able to be saved, but not before sustaining some damage.
Fire breaks were put in place and the landowner continued to monitor the smouldering hay after firefighters left about 11pm.
When firefighters returned at 7am on November 10 they were satisfied the blaze was under control.
But NSW RFS Inspector Doug Adamson said the RFS crews were called back just a few hours later, at 11.30am, when a second hay stack of the same size — located about 50m from the first fire — also spontaneously combusted.
Insp Adamson confirmed the second fire was not started by the first, and ruled out ember transfer.
This second stack was under a shed, which was also completely destroyed.
The fire may burn for at least 10 days, because the size and heat makes it difficult to extinguish. Monitoring will continue until then, and the Mid Murray Support bulk water truck is at the property as a precaution.
''We have already had several big hay stack fires this year,'' Insp Adamson said.
''The number one thing people need to remember is that their bale moisture needs to be right, and should be left in the paddock for at least a month before it is stacked.
''You should also have several smaller stacks so if it does go up, some of it can be saved.
''We are well into the fire season, so I would remind everyone to prepare themselves, their home, property and equipment for the fire season.''
News Roundup Black Friday 13th November