A major boost for Lithgow's bushfire recovery as we enter hotter months
The Lithgow Mercury reported that Lithgow Council will receive up to $250,000 of funding under the Bushfire Community Recovery and Resilience Fund to assist the region in the recovery from last summer's horrific bushfire season.
Large sections of Lithgow Council LGA were impacted by the 2019-20 fires, making the council eligible for funding to support its vast recovery process.
The funding arrangement between the Commonwealth and NSW governments allows investment in projects that will directly benefit recovery efforts and help communities rebuild.
Lithgow Mayor Ray Thompson welcomed this support for locally led recovery and said spending the money has to be done on the right things.
"We know that community-led recoveries provide the best chance for people to get back on their feet. Ensuring the correct level and type of support is provided for residents and towns to come out the other side with even greater resilience and hope for the future," Mayor Thompson said.
"The recovery side of things and I really applaud the government for giving us this funding. This is the second lot of funding we've received virtually, so in saying that we've most probably got about half a million in funding I'd say with the second $250,000 that Minister Toole announced the other day which is absolutely fantastic.
"They're the sort of things that we have to make sure that we get right.
"The $250,000, we will try and put things together that will help small business and get things in the town rolling again. This outage at Mount Piper coming up to Christmas will give our economy especially the people who have been doing it tough in hospitality and so forth. They'll be full for the next three months which will certainly help."
Mayor Thompson also touched on the struggles the Lithgow area has faced in the last number of years with bushfires and whether we could see a repeat of last year's fires.
CLEANUP: Army reserves assist in the cleanup after the bushfires. Photo: Major Cameron Jamieson. Commonwealth of Australia, Department of Defence
"I very much doubt it. In saying that there's parts of Lithgow that are at risk. So the other side of things, I believe there won't be near as much foliage on the ground as far as that goes because that would have been burned in the last one," he said.
"There won't be as much stuff to burn to get the fire really going, especially from the northern side. And that's generally where our fires have been coming from."
"To me, and as far as firies are concerned too – sometimes they haven't had a chance to do any back burning or as much reduction burning as they'd like to get done. And that was most probably part and parcel in this particular year with COVID and everything. They most probably would have loved to get a lot more done than they have."
He said last year's efforts were a sight to behold.
"I know our firies have really been trying to get on top of things, our RFS and all our emergency services. It was something to be believed the way that they tied everything together last Christmas," he said.
"It was absolutely amazing to see the way that all the emergency services worked together."
Dungog shire to receive $100,000 in bushfire resilience grants
The Dungog Chronicle reported that Dungog Shire Council is to receive $100,000 from the Bushfire Community Recovery and Resilience Fund (BCRRF).
The BCRRF, administered by Resilience NSW, is providing more than $25 million to promote community well-being, social and future disaster resilience.
Minister for Agriculture, Drought and Emergency Management David Littleproud said the Australian Government continues its commitment to bushfire impacted communities on their journey to recovery.
"Australia's bushfire impacted communities have displayed the most amazing resilience to firstly withstand the onslaught of the Black Summer bushfires and secondly to work so hard to rebuild their lives from it," Minister Littleproud said.
"The importance of community-led recovery cannot be underestimated. It's through the work and ideas of local communities that recovery is achieved and resilience is strengthened.
"Under long standing joint Commonwealth/state funding arrangements this funding allows communities to invest in projects that will directly benefit recovery efforts and help communities across New South Wales build back better.
"Each community faces a different set of circumstances and recovery needs. I look forward to seeing a range and diversity of projects come to fruition by the people who have experienced these fires" Minister Littleproud said.
Acting Deputy Premier and Minister responsible for Disaster Recovery, Paul Toole, said the NSW Government is continuing to deliver targeted support to help communities recover from the Black Summer Bushfires.
"We know that community-led recoveries provide the best chance for people to get back on their feet and for towns to come out the other end of a tragedy with even greater resilience and hope for the future," Mr Toole said.
"I am truly touched by the resilience I've seen from people who have faced unimaginable hardship right across NSW and it is a testament to every individual who makes up our regional communities.
"I'm pleased to say Stream 1 will provide $100,000 or $250,000 grants to local councils to support locally-led social recovery activities.
"Stream 2 will provide grants for social recovery and preparedness projects, which could include education programs about how to best prepare for future hazards and community activities to bring people together.
Bushfire danger period begins October 1 on Southern Tablelands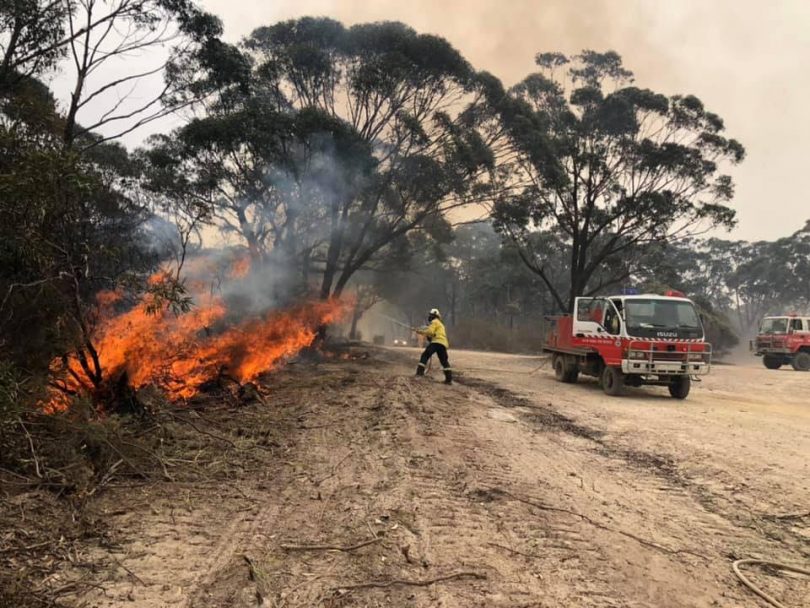 About Regional reported that the bushfire season begins in Yass Valley, Goulburn Mulwaree and Upper Lachlan Shire on Thursday and authorities say recent vegetation growth could be a challenge.
Between 1 October and 31 March, landowners in those areas will need a permit 24 hours before lighting a fire in the open.
Rain in winter and spring may have broken the drought and filled dams and rivers across South East NSW, however NSW RFS Operational Officer – Southern Tablelands Zone Michael Gapps said it had also increased fuel loads.
"Unfortunately, a lot of people have had to sell their stock [due to drought] and aren't in a position to buy more stock, so we're expecting a fair bit of grass growth over the next few months," Mr Gapps said.
"Come January and February – when we experience higher temperatures – the grass will dry off and present a challenge for us. We also have a lot of dry bush vegetation that's around and unburnt."
The beginning of the bushfire danger period is a reminder to everyone to consider their bushfire survival plan and reduce hazards on their property, Mr Gapps said.
"I think, after a bit of rain, people become a bit complacent because they think they don't need to worry and they fall into that trap of thinking they'll mow the grass, clear the gutter or move objects away from their home at a later date," he said.
"Practise your bushfire survival plan, discuss it with your family and neighbours so they are aware of what your plan is and can let us know in the event of a fire if you have already left."
Last year the RFS was inundated with triple zero calls concerning smoke sightings that weren't from fires locally but from fires on the South Coast and other parts of NSW.
Mr Gapps said the organisation recently received several calls around Bungonia and Tallong, near Goulburn, reporting pile burns by landowners that were, in fact, permitted.
He urged people who can only see smoke to check the Fires Near Me app, RFS website , or call the Bushfire Information Line on 1800 679 737 before calling triple zero.
"People can also call their local fire control centre but the 1800 number will free us up to manage potential incidents," he said.
However, the recent rain has given authorities confidence that this bushfire season won't be as bad as last year's.
The RFS has also welcomed more than 100 new recruits in the Southern Tablelands since last summer's devastating bushfire season. They have completed their training to assist with this bushfire season, while existing members have completed their advanced firefighter and crew leader training.
Local crews adapted to COVID-19 restrictions by holding training sessions online and at stations with smaller groups.
"We're in a good position," Mr Gapps said.
Bushfire at Rawdon Island-Telegraph Point; fire permits suspended
The Wauchope Gazette reported that more than 160 hectares has burned in a bushfire in Rawdon Creek Nature Reserve.
The fire is now under control.
The fire, which was being controlled by Rural Fire Brigade units and managed by National Parks and Wildlife Service, burned in bushland between Junction Road, Rawdon Island and Wharf Road, Telegraph Point.
The fire reached Telegraph Point Road by Sunday afternoon (September 27).
A 10 hectare fire was also being controlled off Lorne Road at Comboyne over the weekend.
The official start of the bushfire danger period began on September 1.
Boost for Blue Mountains fire response
The Blue Mountains Gazette reported that it's taken a while, but the new homes of Lawson and Blaxland's Rural Fire Service brigades have officially opened.
Police and Emergency Services Minister David Elliott, joined NSW RFS Assistant Commissioner Jason Heffernan and Mayor Mark Greenhill to official open the $1.1 million Lawson volunteer Rural Fire Brigade and the $1.3 million Blaxland Rural Fire Brigade on Sunday.
Lawson's new station was finished almost 18 months ago and Blaxland's has been in use for a year. The stations official openings, which included visits by the state and federal members, were always planned to happen on the same day, but catastrophic bushfires and COVID led to the delays.
Mr Elliott said the new stations are fit for purpose and will provide space for additional tankers.
"Lawson has space for three vehicles and the Blaxland station has space for four tankers and I am sure it is greatly welcomed by the more than 200 current volunteers and the local communities," Mr Elliott added.
Blue Mountains district manager Inspector Nick Medianik only started in the role a week ago, and was delighted by the opening of "two significant pieces of infrastructure".
He began as an RFS volunteer in 1996 in Blaxland, has also worked for NSW Fire and Rescue and worked in rural and regional NSW with the RFS.
"Lawson's been operational for over 18 months, for the brigade it's good to have the official handover … it wasn't appropriate to open them during the catastrophic bushfires … it was a tremendous day for emergency services and community across the Mountains," he said.
NSW RFS Assistant Commissioner, Jason Heffernan said there was a new three bay building at Lawson including an additional annex for group officers, a multi-function room for the brigade and a separate multi-function room for group officers, as well as a storeroom and amenities."
Inspector Medianik said Lawson and Blaxland stations were now both configured to act as a "forward command post and for use by other agencies as required… like a smaller scale emergency service precinct… it's built like a Mechano set, you can …configure to the needs of the land and the brigade."
The openings were done to a COVID-safe plan.
The emergency response for the upcoming storm and fire season in the Mountains was further boosted with the official handover of a $360,000 urban tanker to the Winmalee Rural Fire Brigade.- and two trucks to the State Emergency Service.
"The new truck is part of an additional $45 million in funding that will provide 120 new trucks and 70 refurbished trucks to the RFS," Mr Elliot said.
The two new SES vehicles, a Isuzu D-Max and MUX, are used to provide support roles to the unit in assisting logistical movement of equipment and supplies during emergencies and replace two aging Toyota Hiluxs.
SES Commissioner Carlene York is encouraging all residents to prepare for the upcoming storm season. See www.ses.nsw.gov.au
Let your photos tell Kempsey Shire's bushfire story
The Macleay Argus reported that id as the saying goes, a picture only tells a thousand words, then we are going to need a lot of them.
It is hard to imagine that it has almost been a year since the bushfires swept through so much of our shire. The journey that we have been on since that time, both as a community and as individuals, needs and deserves to be shared and recorded.
That is why council wants your photos of the past 12 months.
We are creating an exhibition of the best images that tell the story of the fires and our recovery.
The exhibition will be entitled Black Summer and Beyond – an exhibition of images from the Macleay and your photos will be mounted and put on display in a traveling exhibition that everyone in the shire will have an opportunity to see.
So please, send us your photos. Perhaps in those darkest days you took a shot with your phone of the fires, the smoke, or the many, many heroes who stepped up from our community.
Or maybe you snapped a photo of our beautiful natural environment in the immediate aftermath or as it has returned to its stunning green best.
And of course we want just as many photos of our community responding over the past year as we have rebuilt and resumed life in this great shire.
If you have any photos at all, please send them to blacksummer@kempsey.nsw.gov.au or for more information head to yoursay.macleay.nsw.gov.au/recovery