Ken Stephen Medal: Finucane recognised for hometown bushfire relief
The NRL reported that Dale Finucane wished his trip home to Bega in February was "on a more positive note" but he's been recognised for leading the Storm's bushfire relief efforts in the area.
The Melbourne lock, along with teammates Ryan Papenhuyzen, Tui Kamikamica and Aaron Pene, travelled to the far south coast of NSW for a weekend to rebuild fences, run junior footy clinics and participate in other activities to boost the spirits of locals.
For his integral role in the club's bushfire response, as well as various other community endeavours, Finucane is nominated for the Ken Stephen Medal – proudly brought to you by My Property Consultants.
"It is a great honour and it wasn't really expected to be honest. We've got a lot of guys within our team that do a lot of great things off the field and in the community," the 29-year-old said.
"But I'm very proud of being nominated for the award, particularly for something that's close to my heart in what occurred over the summer back home."
Finucane was in Bega over Christmas last year and he distinctly remembers a particularly "ominous" day.
"I was back at my wife's parents' house … It was midday and it was really dark outside," the NSW Origin forward said.
"So we ended up coming back to Melbourne quite quickly after that and got out of there before too much bad happened.
Read more here
Fire danger season starts Thursday, our RFS is getting prepared
The Forbes Advocate reported that the bushfire danger period begins next Thursday, October 1, and there is the very real potential for this to be a big season in our region.
The team at the Rural Fire Service's Mid Lachlan Valley headquarters are working now to reduce the risk and prepare, partnering with other agencies to reduce the fuel load on public land and ensuring our local volunteer brigades are ready to respond should fire start.
Inspector Robyn Favelle says staff have been out across the region inspecting villages, towns and major assets for works that need to be done before conditions dry off this summer.
There's certainly a lot of grass and crop out there, but at the moment everything is green and the wet weather does look likely to continue in the near future.
The danger will come as the weather heats up and if things do dry out this summer.
The RFS is working with local government, State Forest, National Parks and other relevant agencies to ensure works such as the slashing of roadsides take place.
"We have also got the Mitigation Crews, they do works around towns and villages as we request," Insp Favelle said, explaining they'll be starting work in Condobolin on Monday.
But our RFS is asking that property owners do their bit to reduce the hazard and put in fire breaks.
Permits are required for all burns from October 1.
To obtain a permit you need to contact the fire control centre or your local brigade captain, then you or they can fill out the online notification at www.rfs.nsw.gov.au/notify
"Harvest coming on is an added danger," Insp Favelle said, particularly urging croppers to familiarise themselves with the RFS grain harvesting guide that helps determine when humidity levels and wind speeds make it unsafe to harvest.
With the possibility of the best harvest in years ahead of us, the RFS is appealing to people not to take risks this season.
The grain harvesting and fire safety guide is available on the RFS website – rfs.nsw.gov.au – under the plan and prepare section, or from the RFS headquarters in Union Street.
Mid Lachlan Valley has had a quiet few years as far as fire danger goes, experiencing prolonged drought while other regions were devastated by fire last summer.
But volunteer brigades are stepping up in readiness for the fire season, back in training after a break due to COVID-19 restrictions.
"There has been a lot of work done on the appliances to make sure they are all ready," Insp Favelle added.
The Mid Lachlan Valley is also expecting a delivery of four new tankers to go to volunteer brigades in coming weeks.
NSW RFS: Bushfire danger period begins Thursday, October 1
 The Daily Liberal reported that the bushfire danger period for 2020/21 commences on Thursday, October
As of Thursday anyone who wants to light a fire in the open will require a fire permit.
The bushfire danger period for 2020/21 will begin in the Dubbo Regional and Narromine Shire Council areas on October 1.
Orana Rural Fire Service (RFS) district officer Bronwyn Waters said during the bushfire danger period a fire permit would be required for anyone who wants to wants to light a fire in the open, including hazard reduction burns.
"This helps to ensure fire is used safely, minimising the danger to you, your property, your neighbours and the community," she said.
Officer Waters said there had been a lot of growth in recent months, warning residents about the impacts of dried vegetation.
"The taller and drier the grass, the quicker the fire will move and more intensely it will burn," she said.
"A grass fire can cut roads and threaten property with very little warning."
In the lead up to the warmer season people should look at any vegetation around properties and make sure they clean their gutters to prepare for fires, which can strike at a moments notice.
"Residents should prepare their property by removing flammable materials from their yards, clearing leaves from gutters, checking hoses can reach all around the house and where appropriate, conducting hazard reduction activities," officer Waters said.
"Residents can ask their local fire control centre for assistance in carrying out safe hazard reductions and for advice about whether they need a bushfire hazard reduction certificate."
Having a bushfire survival plan is the best way to ensure all members of the household know what to do on days of increased fire danger, and what to do if their home is threatened by fire, according to officer Waters.
"Never leave a fire unattended and if a fire does escape, it is essential to call triple zero (000) immediately so that emergency services can respond accordingly and minimise the damage," officer Waters said
Permits are free and can be obtained from the local permit issuing officer or the Orana fire control centre.
Boost for Blue Mountains fire response
The Blue Mountains Gazette reported that it's taken a while, but the new homes of Lawson and Blaxland's Rural Fire Service brigades have officially opened.
Police and Emergency Services Minister David Elliott, joined NSW RFS Assistant Commissioner Jason Heffernan and Mayor Mark Greenhill to official open the $1.1 million Lawson volunteer Rural Fire Brigade and the $1.3 million Blaxland Rural Fire Brigade on Sunday.
Lawson's new station was finished almost 18 months ago and Blaxland's has been in use for a year. The stations official openings, which included visits by the state and federal members, were always planned to happen on the same day, but catastrophic bushfires and COVID led to the delays.
Mr Elliott said the new stations are fit for purpose and will provide space for additional tankers.
"Lawson has space for three vehicles and the Blaxland station has space for four tankers and I am sure it is greatly welcomed by the more than 200 current volunteers and the local communities," Mr Elliott added.
Blue Mountains district manager Inspector Nick Medianik only started in the role a week ago, and was delighted by the opening of "two significant pieces of infrastructure".
He began as an RFS volunteer in 1996 in Blaxland, has also worked for NSW Fire and Rescue and worked in rural and regional NSW with the RFS.
"Lawson's been operational for over 18 months, for the brigade it's good to have the official handover … it wasn't appropriate to open them during the catastrophic bushfires … it was a tremendous day for emergency services and community across the Mountains," he said.
NSW RFS Assistant Commissioner, Jason Heffernan said there was a new three bay building at Lawson including an additional annex for group officers, a multi-function room for the brigade and a separate multi-function room for group officers, as well as a storeroom and amenities."
Inspector Medianik said Lawson and Blaxland stations were now both configured to act as a "forward command post and for use by other agencies as required… like a smaller scale emergency service precinct… it's built like a Mechano set, you can …configure to the needs of the land and the brigade."
The openings were done to a COVID-safe plan.
The emergency response for the upcoming storm and fire season in the Mountains was further boosted with the official handover of a $360,000 urban tanker to the Winmalee Rural Fire Brigade.- and two trucks to the State Emergency Service.
"The new truck is part of an additional $45 million in funding that will provide 120 new trucks and 70 refurbished trucks to the RFS," Mr Elliot said.
The two new SES vehicles, a Isuzu D-Max and MUX, are used to provide support roles to the unit in assisting logistical movement of equipment and supplies during emergencies and replace two aging Toyota Hiluxs.
SES Commissioner Carlene York is encouraging all residents to prepare for the upcoming storm season. See www.ses.nsw.gov.au
Bushfire at Rawdon Island-Telegraph Point; fire permits suspended
Port News reported that more than
160 hectares has burned in a bushfire in Rawdon Creek Nature Reserve.
The fire is now under control.
The fire, which was being controlled by Rural Fire Brigade units and managed by National Parks and Wildlife Service, burned in bushland between Junction Road, Rawdon Island and Wharf Road, Telegraph Point.
The fire reached Telegraph Point Road by Sunday afternoon (September 27).
A 10 hectare fire was also being controlled off Lorne Road at Comboyne over the weekend.
The Mid North Coast region has been declared a very high fire danger area this weekend and it marks the first time this fire season where all fire permits are suspended.
The official start of the bushfire danger period began on September 1.
A small bushfire was controlled in hot and windy conditions in the Camden Haven on Friday (September 25). The fire at Brotherglen Drive was managed by the National Parks and Wildlife Service (NPWS).
Telegraph Point Rd on Sunday afternoon.
Hazard reduction burns are also taking place at Pembrooke and Cooperabung.
District manager Superintendent Kam Baker said last month that an early fire season is not unusual, but increased grass growth across Port Macquarie-Hastings due to recent rain could prove problematic.
At the end of the devastating 2019 bushfires, more than 150 homes were destroyed, nine facilities and 303 outbuildings were destroyed. A further 68 homes, 16 facilities and 139 outbuildings were damaged.
The region tragically lost two lives.https://www.facebook.com/plugins/post.php?href=https%3A%2F%2Fwww.facebook.com%2Fsancroxruralfirebrigade%2Fposts%2F3442871042439343&show_text=true&width=552&height=288&appId
There were 26 emergency warnings issued to communities across the Mid North Coast from November 8 to November 14.
Fifty-eight fires burned between July and December, consuming a total of 420,000 hectares of bushland. This represents more than 30 per cent of the combined Mid Coast and Port Macquarie-Hastings local government areas.
"Last season was unprecedented, in terms of area burnt, lives lost and homes destroyed," Supt Baker said.
Crews on the ground at Telegraph Point Rd on Sunday.
"We cannot be complacent coming into this season thinking that we won't see fire activity again. Bush and grass fires can strike at any time and it is vitally important to be prepared."
This means doing simple things like cleaning your gutters, removing combustibles from your yard, ensuring hoses can reach all corners of your property and completing or updating your bush fire survival plan, so you and your family know what you will do in the event of a bush fire.
Bushfire feature available online
We trust Bega Diatrict News readers are enjoying Friday's special Sapphire Coast Bushfire Recovery feature as much as we enjoyed being able to share it with you all. While there may still be copies available at your local store, the articles are also available on our website for subscribers. The BDN digital print edition gives readers the experience of flicking through an interactive 'newspaper' on the device of your choice. Articles are also being published to a special section of our site. Visit www.begadistrictnews.com.au/news/bushfire-recovery/ for more.
Let your photos tell Kempsey Shire's bushfire story
The McLeay Argus said that as the saying goes, a picture only tells a thousand words, then we are going to need a lot of them.
It is hard to imagine that it has almost been a year since the bushfires swept through so much of our shire. The journey that we have been on since that time, both as a community and as individuals, needs and deserves to be shared and recorded.
That is why council wants your photos of the past 12 months.
We are creating an exhibition of the best images that tell the story of the fires and our recovery.
The exhibition will be entitled Black Summer and Beyond – an exhibition of images from the Macleay and your photos will be mounted and put on display in a traveling exhibition that everyone in the shire will have an opportunity to see.
So please, send us your photos. Perhaps in those darkest days you took a shot with your phone of the fires, the smoke, or the many, many heroes who stepped up from our community.
Or maybe you snapped a photo of our beautiful natural environment in the immediate aftermath or as it has returned to its stunning green best.
And of course we want just as many photos of our community responding over the past year as we have rebuilt and resumed life in this great shire.
If you have any photos at all, please send them to blacksummer@kempsey.nsw.gov.au or for more information head to yoursay.macleay.nsw.gov.au/recovery
Community prepared as it reflects on devastating bushfires
The Camden Courier reported that in early November 2019, several firestorms hit the small village of Johns River.
What started as a fire in the Crowdy Bay National Park, just north of Harrington, eventually made its way up the coast to Johns River and commenced its assault on residents living in Wharf Road, just north of the village.
Sadly, that night, the fire claimed the life of Julie Fletcher, a long term and much-loved resident of the area.
On Saturday, November 9, fires again threatened houses in Wharf Road with firefighters, from all over the district, working tirelessly throughout the day and night, coming to the aid of residents with many properties saved from destruction.
A larger firestorm then hit the eastern side of Johns River on Sunday, November 10, threatening homes in the main village and the Obadiah Christian complex, south of the main town.
Firefighters again came from far and wide to defend the small town with no other properties or lives lost, a great result for all their efforts.
Over the last 10 months, the local Johns River Rural Fire Brigade has been investing time in recruiting and training new members to assist with its capacity in firefighting activities and supporting the local community.
Six new members recently passed their Bushfire Fighter (BF) training and are now ready to support their local community with the upcoming fire season.
Deputy captain and training officer of the brigade, Simon Doyle said "it's great to see more new members join the brigade wanting to volunteer to help their community in times of need. They are so keen and eager to learn all aspects of the role and we appreciate their support and commitment".
Senior deputy captain of the brigade, Chris Bawn said "I am so pleased that the brigade numbers are growing, which is a positive thing for our community".
"We recently lodged a Development Application with Mid Coast Council for an upgrade to the existing station house, as we have outgrown our old 1970s bridge shed. "We are presently raising funds for the building and hope to have the new station open in about 18 months. We appreciate the generous support of the local community."
Given the devastating effects from the last fire season, it's important now for all residents to have a Bush Fire Survival Plan and have the conversation with your family about what you will do during a fire, including where you'll go, what you'll take and what you'll do with animals.
Barilaro ignored pleas to protect koalas after bushfires, insisted logging continue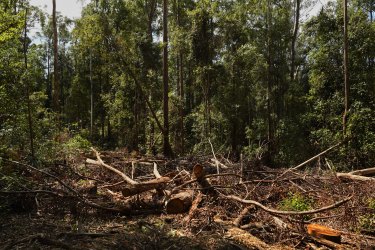 The Sydney Morning Herald repoted that Deputy Premier John Barilaro ignored pleas from the environmental watchdog to curb logging in a core koala habitat hit hard by last season's fires, instead demanding the state firm meet its contracts.
Documents reveal the Environment Protection Authority sought a voluntary halt to logging in the Lower Bucca and other state forests from March onwards. After initially supporting such a move, Forestry Corp rejected the request after intervention by Mr Barilaro, the papers show.
The urgency to slow logging in state forests followed spring and summer bushfires that devastated large areas, including about three-quarters of some key koala habitat sites in northern NSW.
Lower Bucca, near Coffs Harbour, "has a high proportion of high-value koala habitat; it contains a koala hub, and is an important koala refugium in bushfire recovery", EPA document written as advice to Environment Minister Matt Kean in early April shows. The EPA regulates state forestry operations.
However, the watchdog's ability to limit harvesting was constrained by long-term plans – in this case, the Coastal Integrated Forestry Operations Approval – that provide for minimum timber take.
"The Coastal IFOA does not contemplate the degree of impacts on the environment caused by the fires," the document labelled "sensitive" said.
"Amending the Coastal IFOA to provide the EPA power to stop logging unburnt forests would require a 28-day public consultation period and concurrence with the Deputy Premier," it added.
Forestry Corp initially agreed to a plan to avoid logging unburnt state forests and to replan logging in burnt ones.
However, the loss-making firm later changed tack, saying "the unburnt forests are needed to deliver on their wood supply agreements (to access blackbutt timber for [construction company] Boral)", the advice said. Forestry Corp also rejected a plea for extra "site-specific conditions" to protect koalas.
The EPA report stated Forestry Corp logging continued "because their Minister [John Barilaro] asked them to deliver on contractual obligations".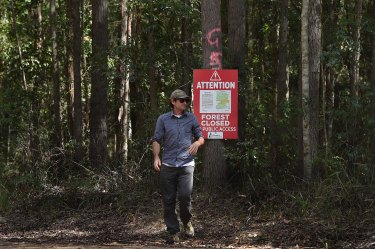 Koala protection has lately been a sensitive one for relations between the Liberals and Nationals within the Berejiklian government.
Earlier this month, Mr Barilaro, who is also Nationals leader, cited plans to tighten the rules on the removal of koala habitat trees as a reason to threaten to move National MPs to the cross-benches.
Mr Barilaro was forced to back down and, on September 18, began a month of sick leave to deal with mental health issues.
The State Government promises to save a vulnerable koala colony under threat from housing development near Campbelltown but the Opposition has slammed the proposal.
Mr Barilaro's office, citing his sick leave, directed the Herald's questions to Forestry Corp.
A Forestry Corp spokeswoman said the logging in Lower Bucca was "a low-intensity harvesting operation … augmented by additional voluntary precautions introduced following the fires".
The logging involved the supply of timber for "essential products like power poles and the timber flooring that many small family-run timber mill businesses produce", she said.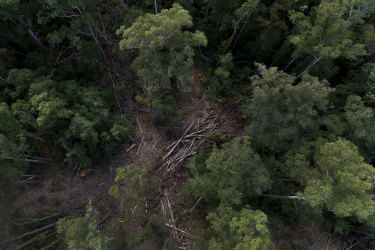 "The process of agreeing on site-specific operating conditions with the EPA has been a slow and challenging process, and has not delivered enough compartments alone to get close to meeting timber supply contracts," the spokeswoman said.
Independent MP Justin Field said the Liberals and Nationals were "on another collision course when it comes to managing the impact of logging on NSW forests after the fires".
"If the NSW government is serious about saving the koala from extinction, just like with the [habitat planning], Premier Berejiklian should stand up to the Nationals and side with the science and expert opinion," Mr Field said.
RFS Expands At Mickibri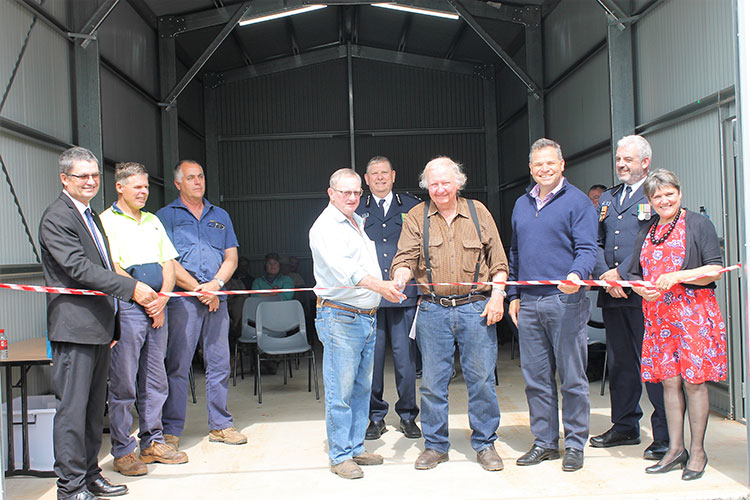 The Parkes Phoenix reported that the Parkes Shire is going into this fire season well equipped and prepared with a fourth new station opened last Friday at Mickibri between Alec Town and Peak Hill.
The new single bay station, built at a cost of almost $50,000, will house one of the two brigade trucks based at Mickibri. Another single bay station was built several years ago.
Over the past month three other new stations were opened at Parkes, Coradgery and Waratah.
The Mickibri Brigade has a long history of service to the community spanning back over 80 years, with local families on the land banding together as part of the brigade to help protect their own and neighbours' properties.
Speaking at the opening Member for Orange Phil Donato said: "I am in total admiration of the men and women who drop everything, temporarily abandoning their work and family commitments to help fight fires to protect life and property, in many cases at financial loss in their absence from work. They display unity, courage and commitment.
The ceremony included an awards presentation, with 17 of the brigade's 21 volunteer members recognised for a combined 651 years of service ranging from 10 to 58 years.
First total fire ban of season declared by NSW RFS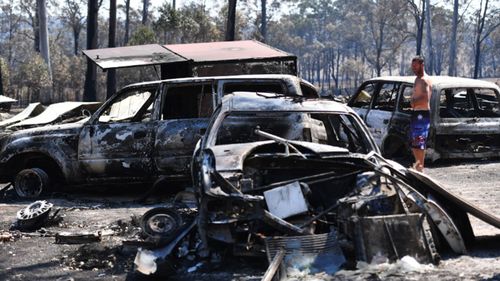 Nine News reported that the NSW Rural Fire Service has issued the first total fire ban of the season.Warm, dry and windy conditions have created a very high bushfire danger for north eastern parts of NSW today.The RFS said in a tweet the fire ban has been declared for the far north coast of the state.
However, other regions, including North Coast, Greater Hunter, New England and Northern Slopes are also being warned to expect a "very high" danger.It reminded people to work out their bushfire survival plan.
Bathurst firies to be honoured with Bushfire Emergency Citation
The Western Advocate reported that Bathurst firefighters have welcomed a NSW Government initiative that will see volunteers and service personnel during the 2019-20 bushfires honoured for their service.
The NSW Bushfire Emergency Citation was announced by the state government on Sunday, September 20, with more than 65,000 people to receive a citation, certificate of recognition, commemorative cap and a letter from the premier acknowledging firies' contribution and thanking them for their service.
Eglinton Rural Fire Service deputy captain Tanya Willey said the citation is a great recognition for the Bathurst firies that served during the bushfires.
"It's a recognition for the firefighters in the last season and most of them will back up next year," she said.
"The recognition from the government, it's great to have."
The citations extend beyond NSW, with firefighters from interstate and overseas recognised.
Thousands of Australians interstate will receive citations along with more than 300 people from overseas to thank them for their efforts in NSW's biggest bushfire crisis in living memory.
NSW Premier Gladys Berejiklian said the citation recognises those who have served both on the frontline and behind the scenes.
"This citation is thoroughly deserved for the thousands of volunteers and emergency services personnel who put their safety on the line to protect lives and properties," she said.
"Equally deserving are those recognised who provided critical behind the scenes support.
"In harrowing conditions, those recognised kept turning up to help their communities day after day, week after week, month after month.
"This citation serves as a reminder of their heroic dedication to the people of NSW in the most trying circumstances."
Eglinton Rural Fire Service is always looking for new members.
Interested people should contact the Chifley Fire Control Centre on 1300 258 737.
Brigade better prepared than ever for season ahead
The Great Lakes Advovate reported that despite less than ideal weather, Green Point RFS deputy captain Rusty Donnelly said the RFS's State-wide Get Ready Day initiative still managed to attract a healthy contingent of people to the brigade's headquarters on Sunday, September 20.
Mr Donnelly said community members from both Green Point and Forster turned out to learn the best ways to prepare themselves for the fire season ahead, with the brigade putting on displays, handing out information packs and sharing some fun stuff with the kids.
"Everyone who came along was enthusiastic," Mr Donnelly said.
"It was a good all round information day."
Related: It's not too late to put a bushfire survival plan together
The brigade even managed to pick up a new member, which adds to the already impressive influx of volunteers Green Point RFS has taken on since the bushfires last year.
"We've taken on 12 adult members and three junior members," Mr Donnelly said.
Given there were just four active members when Mr Donnelly joined six years ago, Green Point RFS is now better equipped than ever, with 47 volunteers now calling the brigade home.
Mr Donnelly said this made a huge difference to the brigade's capacity to respond to emergencies.
"It definitely increases our confidence," he said.
"It increases our response capabilities and just generally allows us to draw from a larger pool."
Mr Donnelly believes there has been a noticeable shift in the community's attitude towards bushfires since the events of last year, with people often seeking out the brigade for advice while they're training.
"At least one day out of the two (that we train) each week someone will stop by and ask questions," Mr Donnelly said.
"People weren't that interested before."
In terms of the bushfire season ahead, Mr Donnelly says there is still good reason to be vigilant and prepared, despite the Bureau of Meteorology predicting a wetter than average summer.
"We didn't have a lot burn on this side of the bridge (last year)," he said.
"I think it will continue to be a reasonably busy period."
His advice for homeowners is simple but effective.
"Be ready, don't just get ready."
Winds whip up fires across parts of northern NSW
The Tweed Daily News reported that a number of fires have broken out across parts of northern NSW this afternoon.
NSW Rural Fire Service spokesman Ben Shepherd said today marks the first total fire ban day for the Far North Coast this fire season.
It's also the first day of the season the region has seen notable fire activity.
Mr Shepherd said none of the fires were currently posing any risk to property, as of about 2.45pm.
Four fires are currently burning in the Tenterfield Shire.
"They have got a couple of fires that have kicked off this afternoon in the wind," Mr Shepherd said.
"At this stage they're confident they'll have these fires contained in the coming hours.
"At this stage nothing's posing any threat.
"They have got aviation support on one of those fires."
He said the current strong winds were expected to remain tomorrow and to ease into Sunday.
Rural Fire Service crews are also currently investigating a bushfire on Yabbra Rd at Yabbra in the Kyogle Shire.
A spokeswoman for the RFS Northern Rivers branch said the fire was believed to be "burning against the wind" which would assist to slow it down.
But she said some of the blaze was burning in "inaccessible terrain" so residents may see smoke in that area for a few days.
According to the RFS Fires Near Me map, there is also an out-of-control bushfire on Deep Creek Rd at Mallanganee, also in the Kyogle Shire.
The four fires burning in the Tenterfield Shire include a burn off on Jubullum St in Tabulam and bushfires at Red Rock Rd in Boorook and in Tenterfield and a grass fire on Yellow Gully Rd in Dalman.
A bushfire on Broadwater Evans Head Rd at Broadwater is listed as being under control.
The region is subject to a total fire ban today.
Dungog shire to receive $100,000 in bushfire resilience grants
The Dungog Chronicle reported that Dungog Shire Council is to receive $100,000 from the Bushfire Community Recovery and Resilience Fund (BCRRF).
The BCRRF, administered by Resilience NSW, is providing more than $25 million to promote community well-being, social and future disaster resilience.
Minister for Agriculture, Drought and Emergency Management David Littleproud said the Australian Government continues its commitment to bushfire impacted communities on their journey to recovery.
"Australia's bushfire impacted communities have displayed the most amazing resilience to firstly withstand the onslaught of the Black Summer bushfires and secondly to work so hard to rebuild their lives from it," Minister Littleproud said.
"The importance of community-led recovery cannot be underestimated. It's through the work and ideas of local communities that recovery is achieved and resilience is strengthened.
"Under long standing joint Commonwealth/state funding arrangements this funding allows communities to invest in projects that will directly benefit recovery efforts and help communities across New South Wales build back better.
"Each community faces a different set of circumstances and recovery needs. I look forward to seeing a range and diversity of projects come to fruition by the people who have experienced these fires" Minister Littleproud said.
Acting Deputy Premier and Minister responsible for Disaster Recovery, Paul Toole, said the NSW Government is continuing to deliver targeted support to help communities recover from the Black Summer Bushfires.
"We know that community-led recoveries provide the best chance for people to get back on their feet and for towns to come out the other end of a tragedy with even greater resilience and hope for the future," Mr Toole said.
"I am truly touched by the resilience I've seen from people who have faced unimaginable hardship right across NSW and it is a testament to every individual who makes up our regional communities.
"I'm pleased to say Stream 1 will provide $100,000 or $250,000 grants to local councils to support locally-led social recovery activities.
"Stream 2 will provide grants for social recovery and preparedness projects, which could include education programs about how to best prepare for future hazards and community activities to bring people together.
"My message to our bushfire affected towns is that we are with you for the long haul."
This brings the total BCRRF to over $35 million jointly funded by the Commonwealth and NSW under Disaster Recovery Funding Arrangements and is in addition to measures supported through the National Bushfire Recovery Fund.
News Roundup September 29th