Narooma shops destroyed in CBD fire
The Bega District News reported that two shops at Narooma were destroyed by fire last night, Sunday, September 20.
Narooma Fire and Rescue was called to a fire at Noorooma Crescent, just off the Princes Highway at about 7.05pm.
Captain Scott Dawson said a women's clothing shop, 4 Her, and hairdressing salon, The Hair Room, were "totally destroyed by fire".
"The two adjoining shops were totally destroyed by fire and properties either side were saved by RFS and Fire and Rescue," Mr Dawson said.
"It was a very intense blaze."
However he said no-one was hurt in the blaze.
Two Narooma Fire and Rescue trucks were accompanied by two Moruya Fire and Rescue trucks, Dalmeny-Kianga RFS, Narooma RFS and Tilba RFS.
Mr Dawson said crews contained the blaze within two hours, however there were " a couple of re-ignitions throughout the night".
"The Hair Room had aerosol cans and some hazards we had to contend with," Mr Dawson said.
The Princes Highway was closed to allow firefighting operations. Traffic was diverted.
A crime scene has been established and police are investigating
The VFFA's Neil Crawley told us:
We lost a Hairdresser/Nail shop and a Dress shop but saved the adjoining Mitre 10….the women of the town aren't happy but the blokes sure are…they can buy hardware with the money their wives will save on dresses and hair styling
Guess there's an upside to every story!
Artist call for community bushfire thank you murals across Port Macquarie-Hastings
Port News reported that seven community murals will be painted in key locations across Port Macquarie-Hastings as a thank you to the efforts of the region's first responders in the 2019 bushfires.
A call is out to local artists who are interested in participating in the project with indeas to be submitted to Port Macquarie-Hastings Council by Sunday, September 20.
Mayor Peta Pinson launched the project at Westport Park, the first location for a community mural. The project is funded through the Commonwealth Government Disaster Recovery Funding made available to council.
Council received $60,000 for a community celebration for the Rural Fire Service (RFS) and volunteers. Initial planning commenced for the event before it was put on hold as a result of COVID-19 lockdown.
Now, council is looking at a series of special gratitude events to end the year in lieu of larger scale Christmas celebrations.
Some of the ideas for the celebration include the gratitude murals in prominent public spaces and fire-affected communities; gratitude chalkboard walls; and a virtual Christmas celebration to be streamed online.
Thank you murals are planned for Westport Park in Port Macquarie, Lake Cathie, Wauchope, Beechwood, Rollands Plains, Pappinbarra and Long Flat.
"The best way we can say thank you is to put something very prominent in an area like Westport Park. (The mural) is designed to say thank you to our first responders and all those who stepped forward during our bushfires last year," Cr Pinson said.
"Twelve months goes by very quickly and here we are again ready for another bushfire season."
Council is looking for artists to submit an expression of interest in the project.
"In the Port Macquarie-Hastings region we have a diversity of artists and culture. Artists have until Sunday, September 20 to get an expression of interest in and let us know what their design might be."
Cessnock's Rural Fire Service stations hold Get Ready Weekend activities in person and online
The Cessnock Advertiser reported that
Cessnock residents will have the chance to become better prepared for the upcoming bushfires season this weekend, which is the Rural Fire Service's Get Ready Weekend.
Get Ready Weekend (September 19-20) provides an opportunity for residents to engage with local RFS brigades, find out about the bush fire risk in their area, and to plan and prepare for the season ahead.
This year, brigades will be offering a number of ways to participate in Get Ready Weekend, from fire station events to discussing your fire plan online.
The Pokolbin brigade is among those holding in-person information sessions.
The station on McDonalds Road (next to Pokolbin Community Hall) will be open from 2pm to 4pm Saturday.
Deputy captain and community engagement officer Lewis Drayton said firefighters will be available to chat and hand out resources to help families and business owners prepare their properties for the impact of bushfire.
"Strict COVID guidelines will be in place to ensure the safety of our community and our firefighters," he said.
Read more: Why the Hunter has to be on high alert this bushfire season
The Laguna station will be open from 1pm to 4pm Saturday, with a 20-person limit. Residents are welcome to drop in during these times or make an appointment by calling 4998 8206.
The Wollombi brigade will hold an information kiosk in the grounds of Wollombi Tavern on Saturday from 3pm to 6pm.
The North Rothbury station will be open on Saturday from 10am to 2pm, while the Greta brigade Wyndham Ridge Park in West Street on Sunday from 10am to 12pm.
The Millfield brigade will hold a street meeting on Congewai Road from 10am to 1pm Sunday.
Some local RFS stations – including Quorrobolong, Bucketty and Benwerrin – have moved their Get Ready Weekend activities online this year, and will provide information via their Facebook pages.
NPWS burning in Royal National Park
Mirage News reported that National Parks and Wildlife Service (NPWS) in conjunction with Fire and Rescue (FRNSW) and NSW Rural Fire Service (RFS) is planning a hazard reduction burn for the Royal National Park at Bundeena, Wednesday 16 September.
NPWS Area Manager Brendon Neilly said the small burn in the Woodfield Avenue of the National Park is occurring in this week to take advantage of suitable weather.
"This burn will help protect the communities Bundeena and Maianbar and reduce the risk of wildfire to surrounding properties," Mr Neilly said.
"The burn is due to begin at about 10am and motorists along Bundeena Drive entry into and out of Bundeena are reminded to beware of potential smoke hazard and drive to conditions. Traffic control will be active on the Bundeena Drive entry in Bundeena.
"Public access to Royal National Park within the Woodfield Avenue area including Bonnievale and associated walk tracks will be closed during the burning operations.
"Smoke from the burn program may be visible in the National Park and may be evident in local communities depending on wind direction.
Bushfire inquiry told Green Wattle Creek backburn error impacted shire towns
The Camden Advertiser reported that a backburn used to fight the Green Wattle Creek bushfire was placed under the spotlight at the recent NSW Bushfire Inquiry.
The inquiry requested the NSW RFS provide details of independent investigations into backburning at the Green Wattle Creek, Currowan, Gospers Mountain and Grose Valley fires.
The NSW Rural Fire Service (RFS) website states that "a backburn involves burning a strip of land ahead of a main bushfire in order to remove fuel from between the advancing fire edge and the established control line".
Community members who provided feedback to the inquiry were divided on the effectiveness of backburning.
"Feedback from the community about backburning was polarised," the report stated.
"In some areas the feedback was that not enough backburning was done to protect properties, and in others that too much was done."
The Green Wattle Creek bushfire damaged or destroyed more than 30 homes in Wollondilly earlier this year.
More than 270 rural landholders were affected.
The inquiry was told that the eastern containment line of the Green Wattle Creek Fire was breached on December 19, 2019, "resulting in fire affecting the communities of Balmoral, Bargo and Buxton".
At the time of the backburn the fire had already burnt more than 120,000 hectares of land.
"There was community comment that the breach of the containment line had occurred as a result of efforts made to contain an earlier backburn which had been extended beyond its authorised termination point on December 14, 2019," the report said.
"The backburn in question was undertaken within the Buxton sector of the Dry Lakes Division located in the Nattai National Park to the west of the village of Buxton.
"The purpose of the backburn was to establish a containment line to prevent the fire extending to the east and avoid impact on a number of Southern Highland villages between Picton and Mittagong."
The NSW RFS investigation found that "local crews did not have appropriate clarity on how the existing containment line and the backburn would align, resulting in an inadvertent extension of the backburn".
"Once the error was identified, there was insufficient time to execute the fall back due to a diminished window of opportunity," the report stated.
"The NSW RFS reported that the outcome was highly regrettable and weighs heavily on the NSW RFS senior management and is personally devastating for those directly involved."
A NSW RFS spokesman told the Advertiser that it wasn't possible to determine if the loss of homes in the shire could have been prevented had the backburn been successful.
"Given the extreme fire behaviour and underlying drought, any backburn that is implemented in these conditions, is not a guaranteed success," he said.
"Therefore it is not possible to provide a definitive answer on the outcome or whether the burn would have been successful.
"During the 2019/20 fire season more than 1000 backburns were conducted on firegrounds across the state.
"Of this only four per cent were reported to have spotted outside of the proposed containment lines."
The spokesman said backburning was an essential firefighting method particularly when it is unsafe or impractical for firefighters to attack the fire directly.
"When large uncontrolled fires are burning across remote or large parts of the landscape backburning in strategic locations, when weather conditions are conducive, is often the only viable option for containing the fire," he said.
"It is not always possible, nor safe for firefighters to attack fire fronts.
"Introducing fire into or near a fire ground is an inherently risky undertaking.
"To minimise the potential adverse impact of back burning, careful planning and risk analysis is required.
"Despite appropriate planning, risk analysis and precautions, there are times when backburns breach containment lines and may cause damage or loss to property."
The spokesman said the organisation would endeavour to implement the inquiry's recommendations on backburning protocols.
"The NSW RFS is developing interim procedures this season ahead of full implementation, including system changes," he said.
The inquiry recommended that the NSW RFS accelerate its planned roll-out of Mobile Data Terminals (MDTs) for all NSW RFS fire fighting vehicles to ensure crews could access real-time information in an effort to mitigate future risks of backburns breaching containment lines.
The NSW RFS spokesman said that no firefighting vehicles in Wollondilly or the Southern Highlands were currently fitted with MDTs.
However he said the organisation would be implementing this recommendation as well.
"The NSW RFS is well advanced in preparing documents to put out to tender," he said.
Bowman River RFS is holding an open day for Get Ready Weekend
The Goucester Advocate reported that the Bowman River Rural Fire Service (RFS) crew is getting ready for the bushfire season and it's looking to help prepare the community.
Residents are encouraged to come and visit the crew at the Bowman River Fire Station, 1587 Bowman River Road on Sunday, September 20 between 10am and 2pm for the NSW RFS's Get Ready Weekend event.
The day is all about providing residents with information and tips on how to prepare themselves and their properties in the case of a bushfire.
Due to COVID-19, the annual open day needs to run a little differently with only 20 people allowed in the Bowman River fire shed at any given time.
There will still be plenty of useful information on hand with videos on display and pamphlets about preparing your property for the fire season. Bowman River RFS crew members will also be there to help give a little guidance on how to make a fire plan.
While they won't be able to play the normal games with the children or allow them to sit inside the fire truck, there will still be puzzles and fire hats to give away.
'Be prepared' for summer fires, Braidwood RFS captain Scott Hart says
The Braidwood Times reported that
Scott Hart, captain of the Braidwood RFS brigade spent four months last summer fighting fires throughout the state. Now his brigade are girding their loins for the coming fire season.
"WIth any sort of luck," Captain Hart said, "we're not going to see anything like what we saw last summer again in our lives, provided things are properly managed and a few of the Bushfire Inquiry's recommendations are followed."
But Captain Hart continued: "We're urging everyone to be prepared.
"There are a lot more houses than there are trucks to deal with them. Don't miss the opportunity we've got now – we've had the reset button pushed. We can start managing things better – at every level from National Parks through the Fire Agency down through individual landowners. Manage your land so that we don't get the situation we had again.
'Get Ready' for summer
The Braidwood brigade will have an information stall at the Ryrie Park market on September 26 – part of the RFS's Get Ready campaign to help people find out about bush fire risks and plan ahead.
The official RFS date is September 19 and 20, but the Braidwood group see more people if they hold the event in conjunction with the markets, rather than as a stand-alone event.
"There's a public face to us in a public area where it's easy for people to find us," Captain Hart said.
This year, Captain Hart said, the brigade wants to emphasise the importance of public preparedness.
"We're not going to have a truck at every house, so you need to be a bit prepared yourself. Make sure that your gates are wide enough and your trees are clear so that we can get in there, but also make sure you've got a bit of equipment so you can look after yourself, and help us help you."
Geurie RFS kick off 2019 bushfire planning with their Get Ready Weekend
The Western Magazine reported that local Rural Fire Service brigades across the central west region are preparing to host COVID Safe Get Ready Weekend events this weekend.
The aim of Get Ready Weekend is to educate and encourage residents to start planning for the bushfire danger period.
Geurie Rural Fire Service will open its doors on Sunday, September 20, from 10am to 2pm at the local RFS in Wellington St.
Geurie RFS members Chris Newberry said this year will be a little bit different, with the day mainly focusing on giving residents information.
South West Slopes Zone RFS control centre opens
The Young Witness reported that the NSW Rural Fire Service (NSW RFS) is better prepared for the upcoming fire season after the official opening the new South West Slopes Fire Control Centre (FCC) located at Harden.
Minister for Police and Emergency Services David Elliott joined Member for Cootamundra Steph Cooke and Acting Deputy Commissioner Peter McKechnie to officially open the new $6.1 million purpose built Centre.
Mr Elliott said the new FCC was built to provide the South West Slopes District with a modern fit for purpose building to deal with complex and large emergency events.
"While the previous FCC has served the District well, I am confident this new state-of-the-art facility will prove itself to be an invaluable tool in managing fires in the South West Slopes and will be welcomed by the 30,000 residents who live within the District," Mr Elliott said.
Member for Cootamundra Steph Cooke said it is crucial RFS volunteers have the best possible facilities.
"The new facility has the technology, space and functionality for up to 50 people to work together to lead and support emergency events, increase the level of safety and keep the community informed," Ms Cooke said.
"Our volunteers go above and beyond for their communities. I am so proud they have this facility to support their crucial work."
Acting Deputy Commissioner, Peter McKechnie, said the new FCC was welcomed by the whole community as well as around 2700 volunteers within the NSW RFS Brigades in the South West Slopes.
"While the old council managed FCC is still functional as a basic administration facility, it is over 50 years old and lacks greatly as a modern emergency control facility," A/Deputy Commissioner McKechnie said.
In a further boost to the region, Mr Elliott announced an additional eight mitigation roles, forming two crews in the Cowra region.
"These new roles will support volunteers and fast-track hazard reduction in areas that need it most," Mr Elliott said.
Lakes Way HR Burn conducted by NPWS
The Great Lakes Advocate reported that NSW National Parks and Wildlife Service (NPWS) planned to undertake a hazard reduction burn along The Lakes Way, south of Forster tomorrow morning, Friday, September 18.
Depending on safe and suitable weather conditions, the burn will be held between 10am and 2pm between access roads for Camp Elim and the Great Lakes Sailing Club.
However, the plan could change before or during the event if conditions are not safe for the burn.
Conair's sustainable Q400AT arrives in Australia for fire suppression
Skies Mag reported that Conair Group Inc. recently announced that its first Q400AT, engineered specifically for aerial firefighting, has touched down at Bundaberg Airport, Australia. The specialized airtanker is on contract with Queensland Fire and Emergency Services. Its mission is aerial dispersion of retardant, suppressant, or gel products, supporting agency objectives and firefighters on the ground, with the unified goal of containing wildfires to protect communities and the environment.
While its mission is fire suppression, it is the Q400's environmental performance that is setting the standard for future NexGen aircraft.
Conair continues to lead the industry, investing in aircraft that promotes sustainable aviation into the future while providing advanced aerial firefighting capabilities. The latest generation of turboprop offers composite propulsion with advanced swept blade propeller design, efficient lift systems, effective aerodynamics, and a light but robust frame, all contributing to lower emissions, fuel burn and noise, reducing its environmental impact compared to airtankers of similar capacity.
Fast, fuel efficient and flexible, the specialized Q400 airtanker produces 30 per cent less emissions than aircraft of similar size, exceeding current environmental standards for carbon dioxide (CO2), hydrocarbon, nitrous oxide and smoke emissions. With results that are below levels mandated by the International Civil Aviation Organization (ICAO), the aircraft also offers the lowest fuel burn per litre hauled. The Q400AT uses only 58 per cent of the fuel while carrying 88 per cent of the load of a typical Type I airtanker, resulting in less CO2 emissions into our atmosphere.
Its sustainable features do not come at a cost to aerial firefighting performance. The high capacity de Havilland fixed-wing, twin turbo prop aircraft is outfitted with a custom, purpose-built tank. The team of engineers at Conair designed the tank to deliver a 10,000 litre payload at any Interagency Airtanker Board coverage level, using an advanced, proprietary constant flow retardant delivery system (RDS). The tank is equipped with a standard single point filling receptacle on both sides of the tank allowing for a 2,250 litre per minute fill rate from either side of the aircraft.
With quick response on initial dispatches and a loaded cruise speed of 360 knots at up to 18,000 feet, the Q400 is holder of three 'Climb to Time" turbo-prop records. The fast climb to cruise time means reduced block time from base to fire and return. The aircraft is designed for both initial attack as well as support actions, offering tactical flexibility, with a take-off run requirement of 1396 metres when loaded, regardless of density altitude. With its superior turbo-prop speed control, it is capable of consistent drop speeds even in steep, rugged terrain and diverse geography.
Smoke inhalation from Australia's horrific bushfire season has had a "horrendous" impact on babies
Yahoo News reported that smoke inhalation from Australia's horrific bushfire season has had a "horrendous" impact on babies born months after the fires were extinguished, with the effects predicted to last for decades, a doctor has said.
Speaking to 2GB's John Stanley this week, Dr Rebecca McGowan said she holds grave concerns for the next generation of children whose parents were exposed to the bushfires that devastated Australia in late 2019 and early 2020.
Dr McGowan said she is starting to see the "horrendous" effects of the bushfires on newborn babies who were born months after the fires, saying the placentas of women who were pregnant during the bushfires look like that of a pack-a-day smoker.
Dr McGowan explained the placenta acts like a filter.
"When a woman is pregnant, she actually breathes harder, her heart beats harder, she works very hard to nurture the baby within.
"And when she's breathing in these small particles, they travel into her lungs through her body and can be deposited in the placenta, which acts as a filter.
"So we know that the placenta will be a depository for these toxic chemicals from the smoke."
The placenta will absorb chemicals like carbon monoxide from a car's exhaust, and nitric oxide from the bushfire smoke, which could have severe consequences.
"The poor baby developing gets these toxic chemicals within them and that has quite serious consequences – not just for the baby when they're growing but for years and years to come, decades.
"Even when that baby probably lives to their 80s or 90s, they will be affected by the bushfire smoke from when they were inside their mother," Dr McGowan said.
Citing an American study, she explained bushfire smoke can increase the risk of diabetes in a baby or increased blood pressure – but it's not just up to the women.
"We know that even it's not just about the women, it's also the men. There's a lot of work to be done on the effects of men breathing smoke and how that affects the babies that they are producing," she said.
When speaking about what women could do regarding the looming bushfire season, Dr McGowan said it's important to not alarm expectant mothers, but to offer practical advice.
Avoid bushfire smoke as much as possible, wear a mask, stay indoors, opt for a closed-circuit air conditioner instead of a water-based one and head to an area away from the fires where there will be better air quality, Dr McGowan said.
The latter was something she suggested to pregnant women she cared for over December and January, encouraging them to travel to Sydney or Melbourne which had better air quality than Albury.
Dr McGowan said she was concerned Australia was about to see the events of the previous bushfire season unfold all over again.
"It's going to be quite a big fire season down here again, it is going to be Groundhog Day," she said.
"As GPs, as doctors, were saying it's a climate emergency. We need to take it seriously.
"It's here now and it will be affecting our children for the next eight or nine decades.
"And if we don't do something about that now, what's it going to take?"
RFS Get Ready Weekend
Northern Beaches Council reminded residents that as the weather warms up it's a great reminder that for those of us in bushfire-prone areas its time to start preparing.
The Rural Fire Service Get Ready Weekend provides the community with an opportunity to connect with their local brigade this weekend, either face to face or online, and get the best advice on how to protect your home and family ahead of bushfire season.
They can help you create or update your survival plan and answer any questions you may have about your property.
We've seen all too recently how devastating bushfire can be so make sure you get prepared! Find out what your local brigade is doing by visiting the RFS website. 
Prepare for bushfire season with the family
The Corowa Free Press reported that with 'Get Ready Weekend' this week, residents are being encouraged to prepare for bushfire season with family and friends.
Murrumbidgee Council Mayor Ruth McRae is hoping that preparing with small groups can start a broader conversation about being aware of and prepared for all hazards.
She said the 2019/20 bushfire season was the most devastating bushfire season in the State's history.
"It was a stark reminder of the danger of fire. It was also a reminder of the importance of being prepared and having a plan," Cr McRae said.
"In the lead up to our next fire season, with the previous one in the not so distant past and the impacts still being felt across New South Wales, communities are understandably keen to know more about getting ready.
"To support early planning and preparation, New South Wales Rural Fire Service will once again host their annual Get Ready Weekend on September 19 to 20, in person and online."
Commissioner of Resilience NSW, Shane Fitzsimmons encouraged everyone to have a conversation around being prepared for emergency.
"Each year, communities across New South Wales may experience bushfires, home fires, floods, storms, heatwaves, power outages and other emergencies," Mr Fitzsimmons said.
Mid Coast Rural Fire Service crews to host Get Ready Weekend events on September 19 and 20
The Wingham Chronicle reported that the idea that there is nothing left to burn in NSW following the 2019 bushfire crisis is categorically false.
Only 6.9 per cent of the State was impacted by bushfires, which means there is a significant risk for the forthcoming season.
Grass fires can move three times as fast as a bushfire, despite what many think. They start easy, spread quickly and will pose a risk this fire season.
These are just some of the misconceptions Rural Fire Service (RFS) crews across the Mid Coast will quash on September 19 and 20, otherwise known as Get Ready Weekend.
Warialda, NSW, desperate for firebreak help to avoid bushfire disaster
The ABC reported that residents of a small town in north-west New South Wales fear theirs could be the next community destroyed by fire unless they get more help from the State Government and the Rural Fire Service (RFS).
About 1,500 people live in Warialda — an hour's drive east of Moree — which is surrounded by thick vegetation for thousands of acres on all sides.
The Gwydir Shire Council wants to put a 150-metre-wide firebreak in the most dangerous areas, motivated by the destruction of the most recent bushfire season and recommendations from the NSW Bushfire Inquiry.
Mayor John Coulton said it would make backburning easier if a fire ever broke out, but the proposal had received little attention.
"We've had very little response from the heads of the agencies at all," Cr Coulton said.
"We wanted this in place so we could put our break in during the winter, and now it's too late for this summer."
Cr Coulton said so-called "green tape" was complicating the process.
"We didn't want to clear-fell it or anything, we'd leave the angophoras and any other eucalypt-type tree," he said.
"We wanted to take the black pine out completely, and slash under it."
He said there were fears over similarities between Warialda and Tathra, the coastal community devastated by a fire in early 2018, which a coronial inquest heard was also surrounded by heavy fuel loads.
Nervous wait for staff
An RFS aerial map of the town from the RFS reveals several properties "are likely to be impacted by flame, deadly levels of radiant heat, significant embers and smoke" in the event of fire.
Multiple residents told the ABC they feared for their properties, without any effort to manage the surrounding vegetation.
Houseboat goes up in flames and turned to ash in exclusive Sydney travel destination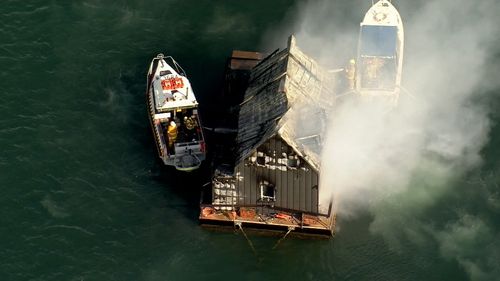 Channel 9 News reported that a houseboat has gone up in flames at one of Sydney's most exclusive holiday destinations, with firefighters forced into boats to battle fierce flames and clouds of black smoke from afar.Emergency services were called to Palm Beach at about 2.20pm today following reports of a houseboat fire 200 metres offshore, a spokesperson for NSW Police told 9News.com.au.
The holiday villa boat, titled 'Lilypad' and docked at the typically pristine location in Sydney's northern beaches region and with a fee upward of $1800 per night, was totally destroyed by the blaze.Despite efforts from firefighters who circled the vessel with hoses and onlookers who tried to help, it could not be saved and is now nothing but a skeleton structure turned to ash.
Malua Bay Rural Fire Brigade urges community to reconnect
New Year's Eve 2019 will be etched in the memories of Malua Bay residents for the rest of their lives.
While Sydneysiders rang in the new year with fireworks, hundreds of people hunkered down on Malua Bay Beach surrounded by a firestorm that burnt through 85 per cent of the bushfire brigade area.
About 100 homes were lost.
"The 2019-2020 bushfire season was as severe and devastating as it can get," said Malua Bay Rural Fire Brigade captain Ian Barnes. "Almost all … in the Malua Bay Fire Brigade area would have been affected.
"Whether you suffered loss of house and/or possessions, were traumatised by the event, or you have family members who were badly affected, it is understandable that even months later you will have difficulty reconciling what happened.
"More so, the isolating consequences of the current COVID-19 restrictions have made it even more difficult for many of us to return to normality."
Hazard reduction burning has begun on the NSW South Coast in a bid to prevent a repeat of the bushfire devastation this year. Residents understand the need for the burns but waking to the acrid smell of smoke and a blood red sun has likely triggered anxiety for many.
In a report to the community, Mr Barnes thanked local residents for their support before and after the Black Summer bushfires and urged them to come together to reconnect at a community open day.
"We have heard some of your remarkable stories of both achievement and loss, but we also know that many are yet untold," he said.
"So that we may hear of them, we are planning an open community day at the Malua Bay Beach Reserve in conjunction with the Surf Life Saving Club, which was also an important part of that day.
"We will have a small visual display of the past fire season and what it may mean to you. It will be a chance to reconnect. It will also be a cathartic opportunity for you to tell your story and hear those [stories] of others."
The open day is being held at Malua Bay Beach Reserve on 26 September from 10 am to 1 pm and will include a free sausage sizzle.
The location itself will be poignant for the hundreds of people who fled their homes and sought safety on Malua Bay beach only to be confronted by a nightmarish scene of smoke and flames.
In the early morning of 31 December, 2019, a fast moving and intense bushfire swept from west of Nelligen, through Runnyford and Mogo, engulfing coastal communities from Batemans Bay to Broulee. In some places, it reached the Pacific Ocean.
Mr Barnes said it was remarkable no lives were lost.
"Although shocked, the community did not panic, effectively evacuating where necessary," he said. "There are many heroic stories and gutsy efforts from property owners [that are] still not generally known.
"The cost to the community is enormous. The recovery will take years and it may never eventuate for some."
Mr Barnes said his brigade expected a large bushfire on New Year's Eve but it came six hours early, catching everyone by surprise with its speed and intensity.
"We encountered a rolling firefront of leapfrogging spotfires and mass ember attack," he said. "The meagre firefighting resources available could do nothing but assist with saving life and property."
When the fire front hit, the brigade's biggest truck was west of Runnyford saving property in the Nelligen area and couldn't get back until late morning. Having already worked an 18-hour shift, the crew began protecting properties on Ridge Road, Wattlebird Way and Bowerbird Place before returning to the station for a crew change. Other crews battled the outbreaks at Sylvan Street and in Mogo.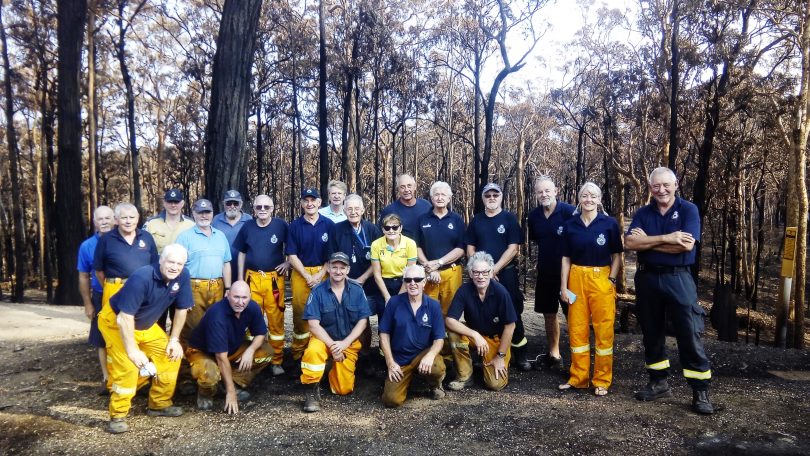 Until outside help arrived mid-morning, six brigade firefighters with two trucks and a crippled main pump battled the blaze.
"It was frustrating for us to be confronted by so large a threat with so few resources," said Mr Barnes. "Nevertheless, over some exhausting hours, and with significant help from other firefighting units, we were still able to save many houses."
However, two brigade members lost their own homes, and several lost vehicles. Half the brigade members suffered property loss and the station itself nearly went up in flames.
"It was a horrendous two months," said Mr Barnes. "For everyone in the community, it is a bushfire season we will never forget."
Long service medal for RFS member
2ST Highland News reported that retired Rural Fire Service Group Officer Bill Dunn has been recognised for his service.
The 85 year old Wingecarribee resident joined the organisation when he was 15 years old.
He still helps out at the Wingecarribee Fire Control Centre.
This week he received a long service medal for 70 year of service from Commissioner Rob Rogers.
RFS thanks school for donations
Coast Community News reported that Wyong Creek Public School has received a certificate of appreciation from Yarramalong RFS.
The school received the certificate for donations made to the RFS unit earlier in the year, with volunteers hand delivering it on Monday.
"Our donation went towards the purchase of P2 respirator masks, portable weather meters and tools and equipment for the trucks.
"We would like to thank the Yarramalong RFS for all that they do to keep our community safe," said Principal, David Ireland.
Get Ready Weekend: RFS stations across the Illawarra to throw open their doors
The Illawarra Mercury reported that Rural Fire Service stations across the Illawarra will throw open their doors for Get Ready Weekend, this Saturday and Sunday.
Residents are being urged to prepare their homes as the start of the bushfire season approaches.
Volunteers will be on hand at nine Illawarra stations and will also be dispensing bushfire know-how in the community at Cove Boulevarde, Shell Cove (Wednesday, 10am-1pm), Knox Park, Austinmer (Saturday 10am-2pm) and at Wollongong Botanic Garden (Saturday 10am-3pm).
News Roundup September 22